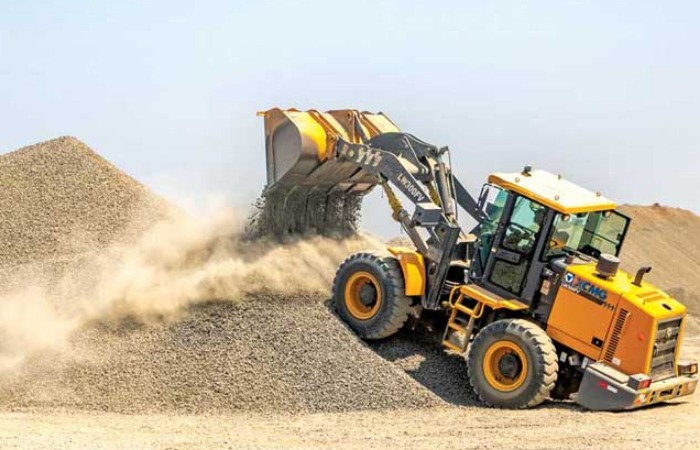 The Indian construction equipment industry recorded an excellent 26 per cent growth YoY with sales crossing the one lakh unit mark in FY2022-23. CE sales in Q4 of FY23 (January-March 2023) increased by 23 per cent, over Q4-FY22 and by 22 per cent over Q3-FY23. On a month-on-month basis, sales in March 2023 increased by 17 per cent over February 2023.
The significant growth in FY23 was driven by all four sub-segments of the CE industry, except road construction equipment, which recorded a slight de-growth of 3 per cent. A total of 77,164 units of earthmoving equipment were sold in FY23 – a 23 per cent jump in sales as compared to 62,629 units sold in FY22.
"FY2022-23 was a year that saw volumes peak to the best-ever performance, with the industry sales volume exceeding the pre-pandemic level by 10 per cent," commented VG Sakthikumar, Convener, ICEMA Industry Analysis and Insights Panel and Managing Director, Schwing Stetter India. "Infrastructure projects including high-speed trains, metro-rail, and national highway construction contributed to the growth of CE industry in Q1 and Q2 and the growth in subsequent quarters was backed on petrol and refinery, steel plant, and port development projects," said Sakthikumar.
Sakthikumar mentioned that, with the Government's continued focus on infrastructure development and a significant increase in the capital expenditure outlay announced in the Union Budget 2023-24, demand for construction equipment is expected to remain robust in the near term with growth expected to be around 15 to 20 per cent in FY24.
Growing market
Speaking on the key trends for the wheel loaders market in India, Amit Bansal, Director, Sales & Marketing, Building Constructions Products (BCP) Division, Caterpillar India, said, "Rapid expansion of mining operations and infrastructure projects in the Asia-Pacific region, including India, has led to a parallel growth of the construction equipment market which also includes wheel loaders as they play a crucial role in supporting infrastructure projects by efficiently moving and loading construction materials, enhancing efficiency and speed in material handling tasks.
He added, "We are committed to understanding the evolving needs of our customers and delivering pioneering products and services with a focus on technology-enabled solutions and aftermarket to increase customer loyalty. Our wheel loaders are designed to handle all the jobs on the worksite. The machine is fine-tuned with the right technologies for the right applications which results in lower operating costs, higher performance, and improved reliability across a variety of applications. The machine is built with linkage options and an extensive range of work tools and bucket styles is available to customise these machines for customer's operation."
Hindustan 2021E continues to be the best-selling wheel loader model in India. Hindustan 2021E comes with significant enhancements to the engine and engine system to comply with new CEV IV emission requirements such as the engine control module and efficient exhaust after-treatment system. The machine is powered by a powerful yet highly fuel-efficient 133HP gross power six-cylinder turbocharged engine. The standard machine comes with a spacious cabin, comfortable and adjustable seat with ergonomically placed consoles and pilot operating joystick levers for fatigue-free operation with an optional AC. Product Link (Telematics) a standard feature, wirelessly connects customers to their equipment giving them valuable insights such as location, and hours worked providing the ability to track the machines remotely.
One of the leading players for wheel loaders in India, LiuGong India has been experiencing a steady growth in sales of its earthmoving equipment in India over the past few years. The company has a market size of 3326 units in 2021, which is 25 per cent of the total market share for wheel loaders in India.
Nischal Mehrotra, Vice President – Sales and Service, LiuGong India, said, "In 2020, Liugong reported a 37 per cent increase in sales of its wheel loaders in India, despite the impact of the COVID-19 pandemic on the overall construction equipment market. The company attributed the growth to its focus on offering high-quality products and strong after-sales support to its customers."
Liugong's sales trend in the Indian market appears to be positive, driven by its focus on providing high-quality products and strong after-sales support to its customers. India's construction industry is expected to grow at a steady rate in the coming years, driven by government initiatives aimed at boosting infrastructure development, urbanisation, and industrialisation. As a result, the demand for modern and efficient earthmoving equipment is likely to remain high in the Indian market.
Liugong has been investing in expanding its product range and strengthening its distribution and after-sales service network in India. These efforts are expected to continue in 2023, helping the company to meet the growing demand for its products in the Indian market. Moreover, Liugong's focus on offering high-quality products, coupled with its commitment to providing strong after-sales support to its customers, is likely to help the company maintain a competitive edge in the Indian market. Therefore, it can be expected that Liugong will continue to experience a positive sales trend in the Indian market in 2023.
Digital tech on the rise
The current innovative trends in this industry are exponentially high, looking at the new buy out strategies and the development of newer machines, changing the old-fashioned way of equipment and inculcating innovations to it, it is very clear the industry is boosting high. Also, the construction sites have newer projects, developments seen in industrial sector of manufacturing construction equipment has given new dimensions in manufacturing and in turn the upliftment of urbanisation is rapidly changing the face of the city.
It is seen as per recent reports that the growth of the earthmoving equipment market will significantly contribute to the growth of the construction machinery market, which is expected to increase exponentially in coming years. Thus, as the consumer demand is increasing there has been a significant uplift of market size too. Also, it has been seen manufacturers are more engaged in building multifunctional tools; this reduces your expenses and uplifts the demand for the product as this is the need of the hour.
Companies are investing more from where they can reduce the overhead expenses and invest in tools and software that can perform more than one function and reduce the load of the overall equipment. Thus, manufacturers worldwide are investing on their design, research and development teams to bring out a product that is sustainable, provides fewer breakdowns and has multiple utilities.
Speaking on the digital technology evolving in the construction equipment industry, Himanshu Sharma, Head – Marketing & Corporate Communication at B&R Industrial Automation, said, "Every industry is now embracing digitalisation. In the modern world, it is impossible to think of any industry not adapting its ways of manufacturing to deliver more through various modes of digitalisation. Also, by leveraging advanced manufacturing concepts together with digitalisation, machine builders can now deliver superior performance and add value to their customers. To put it briefly, digitalisation is fundamentally changing how machines are manufactured and is an ideal option for every machine builder to build more reliable and efficient machines, helping them from the design phase to installation and effective after-sales in the market. Industry 4.0 is helping machine builders to implement digitalisation, which has proven to be the differentiator factor for providing possibilities like machine monitoring and support, energy monitoring, production tracking, predictive maintenance and improving overall operator and machine safety. In return, the construction sites will benefit from quality work, improved safety and timely completion of projects, which will aid further growth of the construction equipment industry."
Manufacturers of construction machinery face the challenge of implementing intelligent and autonomous machine functions quickly and maintaining them over the long term. B&R continues to open new possibilities in the automation of mobile machinery or heavy equipment manufacturers. B&R has added a full-scale PC for mobile machinery to its portfolio. The powerful PC for mobile machinery is equipped with an Intel Core i processor and offers IP69K protection for deployment in harsh environments. Its high performance makes it optimally suited for smart machines that communicate with each other, process data and send it to the cloud. A variety of option boards makes it easy to connect sensors, transmit diagnostics data, or control stepper motors directly. With APROL, B&R offers a tool for implementing PC-based tasks like predictive maintenance, big data analytics for machine optimisation or security gateways. Additionally, B&R Hypervisor also makes it possible to run multiple operating systems in parallel on the same controller which helps in tasks like data collection, monitoring, charting and analysis using externally installed applications on the operating system.
Rental scenario
The rental market for earthmoving equipment is a significant part of the construction industry, providing a flexible and cost-effective solution for construction companies and contractors who need to use heavy equipment for short-term or one-time projects. The rental market for earthmoving equipment has been growing steadily in recent years, driven by several factors, including:
Cost savings: Renting equipment can be more cost-effective than purchasing, especially for small or one-time projects. Renting eliminates the need for large capital investments and ongoing maintenance costs.
Flexibility: Renting equipment provides greater flexibility in terms of equipment selection and availability. Construction companies can rent the specific equipment they need for a particular project, rather than investing in equipment that may not be needed in the future.
Maintenance and repairs: Renting equipment can save on maintenance and repair costs, as the rental company is typically responsible for maintenance and repairs.
Access to newer equipment: Rental companies often update their equipment fleets regularly, meaning that contractors can access the latest and most advanced equipment for their projects.
Short-term needs: Renting equipment is a practical solution for short-term or one-time projects, eliminating the need for companies to invest in equipment that may not be needed again in the future.
Satin Sachdeva, Founder & Secretary General, Construction Equipment Rental Association, said, "Renting offers flexibility, allowing you to pay for only the equipment you need for a limited period. This option benefits all the contractors whether big or small as it frees them from responsibility for managing equipment or fleet, operations, maintenance and repairs."
He added, "It is not that leasing as the model has not been tried in India but it has not been found beneficial and hence not in much use. Also, the equipment rental companies are not interested in this model as this doesn't give them control over the equipment and the machine is in complete command of the contractor. The equipment rental industry is already facing a problem of excessively delayed payments and there have been cases where contractors have held the machines captive to force rental companies to accept their terms and conditions. Leasing, which is also called dry lease, gives control of the equipment in the hands of the lessee, and it has been observed that the equipment is not used and maintained in a standard way, and consequently, it cuts short the life span of the equipment."
The equipment rental industry in India is always looking to serve the construction companies in the best way and keeps exploring different models of hiring or leasing to give more options and be beneficial to both the hirers and other construction stakeholders. This would need more time and deliberations between all the stakeholders so that the best models could evolve over a period of time to benefit the industry.
The rental market for earthmoving equipment is expected to continue growing in the coming years, as construction companies and contractors increasingly turn to renting as a cost-effective and flexible solution for their equipment needs.
Equipment financing is an important aspect of the earthmoving equipment industry, as many companies prefer to finance their equipment purchases rather than paying for them outright. Equipment financing enables companies to acquire the equipment they need while spreading out the cost over time, making it more manageable for their cash flow.
Opportunities
Infrastructure development: India has been focusing on extensive infrastructure development, including roads, highways, bridges, airports, and ports. Wheel loaders play a crucial role in construction and earthmoving activities required for these projects. The government's push for infrastructure development offers a significant opportunity for wheel loader manufacturers and suppliers.
Urbanisation: The ongoing process of urbanisation in India has led to increased demand for real estate and commercial construction projects. Wheel loaders are indispensable for tasks like site preparation, digging foundations, and material handling in urban construction projects.
Agriculture: India has a vast agricultural sector, and wheel loaders are used in various agricultural activities such as loading and unloading of agricultural produce, land preparation, and handling heavy farm equipment. As agriculture becomes more mechanised, the demand for wheel loaders is likely to increase.
Mining and quarrying: The mining and quarrying industry in India continues to grow. Wheel loaders are used for tasks like loading trucks with minerals, excavating, and transporting materials. The expansion of mining operations presents opportunities for the wheel loader market.
Waste management: As cities expand and generate more waste, there is a growing need for efficient waste management systems. Wheel loaders are used in waste handling and recycling facilities to move and process waste materials. The increasing emphasis on clean and efficient waste management can drive demand for wheel loaders.
Rental market: The rental market for construction equipment is growing in India due to the cost-effectiveness and flexibility it offers to construction companies. This presents an opportunity for wheel loader manufacturers to collaborate with rental companies and provide their equipment on a rental basis.
Government initiatives: Government initiatives such as "Make in India" and "Atmanirbhar Bharat" aim to boost domestic manufacturing and self-reliance. Wheel loader manufacturers can leverage these initiatives to set up or expand their manufacturing operations in India.
Environmental regulations: There is a growing emphasis on environmental sustainability and reduced emissions. Manufacturers can explore opportunities to develop and market electric or hybrid wheel loaders to meet the evolving environmental standards.
After-sales services: Providing efficient after-sales services, including spare parts and maintenance, can be a competitive advantage in the Indian market. Customers often prioritise reliable support for their equipment.
To succeed in the Indian wheel loader market, companies should also consider factors like competitive pricing, customisation options, and building strong relationships with dealers and distributors. Additionally, staying updated with the latest technological trends, such as automation and telematics, can enhance the appeal of wheel loaders in the Indian market.