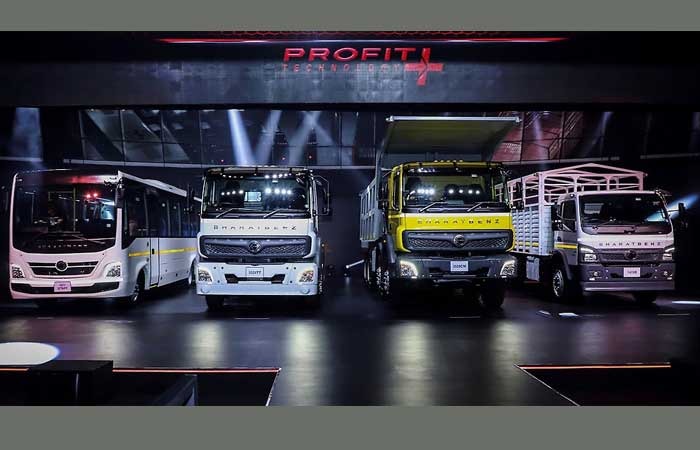 Tipper truck is a commercial vehicle used for the transportation of materials in bulk. The market is being driven by increased demand for logistics and mining services. Higher budgetary allocation towards infrastructure and rural sectors coupled with strict regulatory norms related to vehicle length are anticipated to positively affect India's tipper truck market in coming years.
Indian tipper or dump truck market caters to various end-user industries such as construction, mining and others. Construction and mining are the major segments of the dump truck market. Road construction projects such as Golden Quadrilateral and Pradhan Mantri Grameen Sadak Yojana are further aiding the market growth.
The automotive industry, which has been reeling under the impact of a host of adverse factors and one of the worst slowdowns ever, have transitioned to BS-VI emission standards. This transition has been the talk of motown ever since it was announced last year, and it is pertinent to demystify its implications as the deadline looms closer.
Dump trucks work on hydraulic systems and make use of fluid or liquid under pressure in order to generate the power required for the lifting operation. Annual general demand for tipper trucks stand at 60,000 units and this demand is increasing swiftly. Based on tonnage carrying capacity, tipper trucks are categorised into light (2 tonne – 16 tonne), medium (16 tonne – 31 tonne) and large (31 tonne – 45 tonne) tipper trucks. Of these categories, medium tipper truck segment is witnessing high demand among end-users, because of its application in a variety of tasks.
List of the major market players include Ashok Leyland, Daimler, Mahindra & Mahindra, Eicher Motors, to name a few. Leading companies are developing advanced technologies and launching new products in order to stay competitive in the market. Other competitive strategies include mergers, acquisitions, and new product developments.
Tata trucks account for the majority share in tipper truck market, while other manufacturers are also coming up with competitive products in order to boost their market share. Tata Motors, with its keen focus on 'customer first' philosophy, has introduced a wide range of products focused on these requirements. The BS6 tippers are technologically advanced to fulfil not just the performance requirements of such applications but also to ensure the higher revenues, lower operating costs and enhanced safety for the customers. These vehicles powered with the world-renowned Cummins BS6 engines having numerous features to ensure higher fuel efficiency, lower maintenance and operating costs.
The high torque rating of the engines, at low rpm, coupled with a wide flat torque curve ensures less downshifts, superior driveability, reduces driver fatigue and enhances fuel economy. Three unique technologically advanced drive modes – light, medium and heavy – ensure the best power-torque combination based on the load-terrain-speed requirements. These engines are powered with well-engineered powertrain and chassis aggregates to ensure higher turnaround, sustained load carrying capability, thereby ensuring higher revenue and lower operating costs.
Ashok Leyland, a major competitor of Tata, has launched new tipper models with captain series incorporating new regulations. Says Sanjay Saraswat, Head – MHCV, Ashok Leyland, "The technology trends in tippers and dump trucks are increasing day by day. Our range of trucks comes with a unique modular system that are profitable for the customers by having higher productivity, safety and efficiency-enhancing features. In general, customers look for better operating efficiency in terms of payloads, capacity, and mileage and enhanced driving comfort. So all the new technology is revolving around these."
Bharat Benz is also launching powerful, ergonomic and efficient trucks and ensuring maximum return on investment.
Said Rajaram Krishnamurthy, Vice President, Marketing, Sales and Customer Service, Daimler India Commercial Vehicles, "Telematics is one technology that is certainly reshaping the trucking industry and BharatBenz's 'Truckonnect' is an excellent example of this. A telematics solution based on Daimler's global platform 'Truckonnect' is provided as a standard feature in all BharatBenz trucks. Truckonnect lets customers remotely monitor all key performance indicators including utilisation, fuel and Adblue consumption, fleet health, and driver behaviour. With this, fleet managers can optimise driver performance, increase fuel efficiency, and reduce downtime."
He added, "BharatBenz trucks are preferred in this segment due to fully loaded features, comfortable cabin, gear shift advisory, reverse camera display, best-in-class suspension, two-Stafe differential lock, static steering, and Driver state monitoring system that aims to avoid dangerous situations of drivers falling asleep or otherwise being distracted at the wheel."
Volvo Eicher Commercial vehicles is known to offer a robust product portfolio in the heavy-duty range, starting from 18.5T to 55T and Pro 3019, Pro 6028T, Pro 6028TM, Pro 6048 and 8035XM are some of our best performing models in this segment. These HD trucks and buses are equipped with VEDX 5&8L and E494 engines, offering from 210HP to 350HP output power and world class Engine Management System (EMS) based on Volvo group's global platform, high pressure Denso FIE system and reinforced Domex chassis to make them the most reliable products in their class. These 100 per cent connected BS VI vehicles are powered by Eicher Live, delivering built-to-last superior uptime. Additional features like cruise control, modern and premium cabin design, fuel coaching, Mbooster+ and intelligent Engine Protection System (EPS) make the Eicher HD Trucks a preferred choice. While the buses are mostly chosen for intercity, route permit and staff applications, the trucks are mostly chosen for segments like construction, mining, logistics etc.
Said Gagandeep Singh Gandhok, Senior Vice President, HD Trucks Business – Volvo Eicher Commercial Vehicles, "Alongside these unique propositions, Eicher also has an always customer-first philosophy that offers a compelling ownership experience with performance, reliability and competitive total-cost-of-ownership. The company over these years has remained at the forefront to introduce trucks with higher power and torque combinations by bringing Pro series of Trucks with the world-class technology, modern cabin and intelligent features that offers higher productivity."
Chandrakant Dode, Assistant General Manager, APCO Infratech, who has recently bought Eicher's BSVI equipped Pro 6028T and Pro 6028TM says that they have 200 vehicles from Eicher. According to him, these HD vehicles have best in class fuel efficiency compared to its competitors and the trucks have helped APCO Infratech to increase their turnaround time. Dode also vouches for the reliability and durability of these robust construction trucks. The drivers of the fleet also came forward in commending the pickup of the engines and the seat comfortability, especially for long route travels.
With the infrastructure development activities on and the mining sector on a revival path, the tipper trucks market is sure to pick up in the coming years.