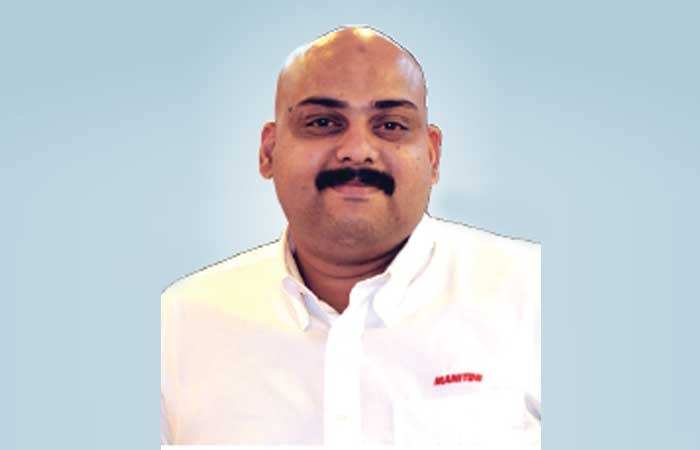 - Hafeez Khan, Managing Director, Manitou South Asia
In today's competitive arena, equipment suppliers need to be more and more customer focussed, driving more customer-centric processes. Could you please share such initiatives with your organisation?
Customers always need a product that can increase their productivity. With that they also focus on saving cost on fuel and maintenance. Powered by BSIV Kirloskar engine, the Manitou telehandlers and backhoe loaders manufactured in India, comply with the new emission norms of India and with their fuel efficiency, the machine is for sure one of the best in the Industry in turn bringing more profits to customers .
The Manitou BHL BS IV was started with two variants - 74,5hp naturally aspirated and 74.5 high torque. We have now launched a new variant "MBL Ranger- 74.5hp" with a Banana Boom.
The ECU coupled with the Common Rail Direct Injection (CRDI) system - provides higher output power and torque rises while offering enhanced fuel efficiency by 10 per cent. The engine mounted after treatment device used is DOC or diesel oxidation catalyst. The regionalised cooling system is designed to operate in demanding and extreme conditions of dust and high ambient temperature environment with ease.
Another initiative is saving the maintenance cost. When it comes to impeccable aftersales, we are twice as good, which is why we offer standard extended warranty for two years or 4,000 hour for our MBL series.
Nowadays, customers are becoming focused on green initiatives and savings in fuel costs and leaving a lesser carbon footprint. Could you please help us understand the green initiatives on product development undertaken by your organisation?
Construction industry is getting more efficient day by day with new technology. With efficiency needs, users are demanding features like compactness, environment-friendly, etc. Manitou with its 60+ years of experience, is constantly investing in new products with new technologies and features which are fully aligned to the customer's demand and their various applications.
The focus on total cost of operation for the end customer is the focal point which has helped us to understand the customer needs more intricately. This also has helped us out in rolling out machines which are much more productive and reliable to our end customers.
We have a vast range of telehandlers that handle the diverse demand of the expanding market. For compact works, we have our skid steer loader, which is a pure example of versatility. We have our aerial work platform that comes in diesel as well as electric version which is environment-friendly. Our Indian products are now equipped with BSIV engines, which are more fuel efficient.
Manitou has also launched its 100 per cent electric range. The oxygen line includes a new aerial platform and a pair of telehandler models.
We have launched our first electric all terrain aerial platform with working height of up to 20 m, which works at par with current diesel powered platforms. Equipped with 48V battery, it can achieve up to one working day on full charge in adverse weather conditions.
The ATJ 200e Oxygen is the group's first electric all terrain aerial platform. With a working height of up to 20 m for a maximum capacity of 230 kg, the model provides the same performance as a diesel-powered version.
The MRT 2550 h Oxygen Lab telehandler is a hybrid prototype version of the diesel MRT 2550 model, capable of operating in 100 per cent electric mode. Retaining the same characteristics as the diesel-powered version, it has 25 m lifting height for a capacity of five tonnes.
We are ready and are excited to launch our hybrid products as soon as the Indian market is open for such hybrids.
Equipment monitoring and increased Human Machine Interface is a new Mantra in the high-end construction equipment industry. How is your organisation coping with this demand for customers, and how ready are your products to meet this demand?
Manitou is always ahead in satisfying its customers. We listen and we work on what our customers need. Like our telehandlers now Manitou backhoe loaders also come with Manitou standard telematics called Easy Manager, which is now available by default on all our MBL's enabling the operator to have a digital twin of his machine on his smartphone with MyManitou App. Now our customers can,
Plan their Manitou fleet better and optimise their business.
Access live machine information like total running hours, fuel consumption, working function, etc.
Track, trace and control their machine usage.
Protect their equipment from unauthorised usage and get real time updates.
Not only it guarantees lower total cost of operations and higher productivity, but also maximises lifetime customer value.
What efforts are being made to make your product more versatile and value for money for customers?
When it comes to versatility, our telehandlers are just unbeatable. Manitou has evolved their telehandlers in a big way that can work in any environment whether in plain areas or rough terrains. These machines being rough terrain are majorly being used in India in various sectors namely infrastructure, construction, oil and gas, mining, logistics, etc. This list is endless owing to the large scope of applications opened up from their extensive range of attachments.
This machine can be used for multiple jobs using a wide range of attachments like floating fork carriage, tilting fork carriage, general purpose bucket, crane jib, frame mounted hook, extension jib, 4 in 1 bucket, construction bucket, platform basket, big bag handler, concrete skip, crane skip and many more. Our Indian telehandlers—MXT 840 and MXT 1740—are value for money products.
What are the plans for electrification of the offering by your organisation? What typical challenges do you think the industry would face if we have to move to complete electric offering for the customers?
The use of alternative fuels and electrification of vehicles is still in very nascent stages especially for the construction equipment segment. On a global level, there is an observation that the next big thing definitely is electric for mobility and productivity of the construction equipment. In no time, the same shift is expected to be seen in the country for electric as an alternate fuel. However, this will have a huge impact on the infrastructure as there is an absolute need of the charging points, their cost implications, government policies, frameworks, etc. All the favourable conditions can only make the electric as a reliable alternate fuel.
In terms of other sources like CNG or hydrogen, even though the demand is seen, it is very limited to some pockets where there is an abundance of gas availability. CNG/hydrogen can be kept on watch currently for Indian conditions.
In terms of productivity of the machines, the efficiency of design and engineering will be tested very rigorously since the site challenges are very dynamic and the responsiveness holds the key
to productivity of the machine But one thing is certain that Manitou keeps an eye on this ever changing technology. Our R&D team keeps on working on new alternatives, new designs. Because our core motive is to give benefit to customers as well as save the environment.
With the heavy increase in the expenditure for infrastructure development in this country, how do you think you are going to utilise the opportunity? Are you planning to add more products in the future? Please elaborate.
Yes the increasing demand in infrastructure sector is pushing us to give more options to our customers. We have recently launched our new range of backhoe loaders – MBL series.
We have launched a new skid steer loader - 1340R with Yanmar engine, which is more compact and more efficient.
Talking about future products, as the market keeps growing; Manitou will be developing new solutions for material handling and construction equipment.