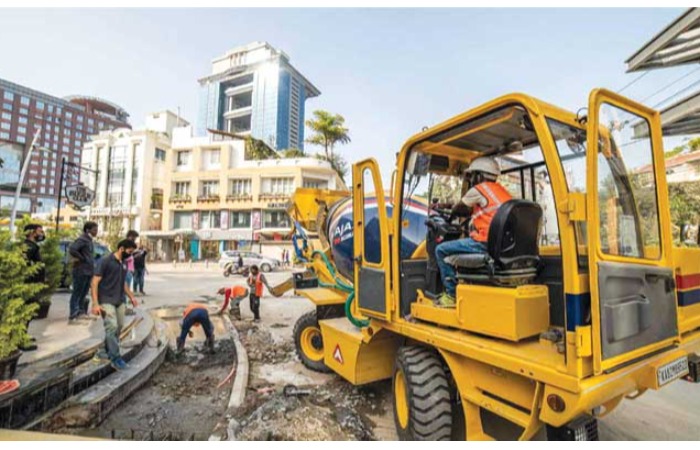 For few decades, construction industries was struggling with cementing, mixing and transporting of the raw materials to the worksite on time. The construction industry at any time required fresh and quality concrete, but their requirement was not fulfilled and they found difficulty in working. There was only one-way to bridge this gap was the invention of the advanced technology-based machine. So, self-loading concrete mixers (SLCM) were invented that made life bit easier. The machine's ability to weigh, batch, mix, and transport concrete to sites, plus its compactness, makes it especially useful in urban construction with constrained spaces.
SLCM is expected to rise with the implementation of many new or stalled urban infrastructure projects. The other demand drivers will be India's growing tunnelling and agro infrastructure projects such as deep wells, irrigation canals, and rural roads – all of which require machines with compactness and mobility for faster loading and discharge of concrete
Says Jagadish Bhat, MD & CEO, AJAX Engineering, "Over the years, AJAX has expanded its product portfolio from self-loading concrete mixer to a complete range of concreting equipment from batching plants to boom pumps to slip-form pavers. AJAX, the world's largest SLCM manufacturer, has now achieved a milestone of 20,000+ concreting equipment in the market. Currently, AJAX has 35+ dealers and 100+ branch offices pan India to cater to sales and service for the customer. AJAX is also serving the international market through 16+ distributors."
AJAX ARGO mixer drums are of superior abrasion resistant steel material. Helical spirals with end protection give the highest degree of wear resistance, along with effective drum mixing. For accurate weighing and quicker loading, a sliding gate bucket facilitates cement and aggregates to feed into the mixer without spillage by the operator, while sensors measure the load, acting on the pressure transducers fitted on both sides of the bucket cylinders.
The ARGO self-loading concrete mixers (SLCMs) have a 4x4 wheel drive, which provides better control to the operator while driving off-road and the heavy-duty axles ensure better traction on inclined terrains. There are three mode of steering, which enable the machine to work on normal roads, and on tight turning radius in confined spaces. Its crab steering gives easy manoeuvrability and diagonal travel on constrained spaces. ARGO comes with a swivel variant designed for sites where there is a space constraint for placing the concrete. The drum can swivel up to 240 degrees, thereby providing customers easy access to the discharged concrete. The operator seat can swivel to 180 degrees, which helps in loading of materials even if he is unable to turn the vehicle.
Sailaj Verma, Vice President – Marketing, KYB-Conmat India, said, "KYB-Conmat is introducing new and advance ranges of self-loading concrete mixers - CSLM 2800, CSLM 4300 & CSLM 4800 – which can produce 2.8, 4.3 & 4.8 cbm of concrete in each cycle, respectively. These CSLMs offer high productivity, faster loading and unloading, and have an electronic weigh batching system with printer. The concrete mixing quality is also superior due to the advanced design of the spiral blades. These machines are very operator friendly due to its single joystick control and reversible operator posts."
He informs that with its unique blade profile and double helix design, the new SLCM can mix and quickly discharge even zero slump concrete with minimal residual matter in the drum. Use of special abrasion resistant steel and edge protection on the blades gives the machine a longer life. "Our in-house Automation & Controls team had developed an interactive Concrete Batch Controller like a Batching Plant, which not only helps the operator to use the SLCM more efficiently, but also ensures the weighing accuracy and productivity. Hence, more concrete is produced and delivered per hour."
The SLCM comes with time-tested and proven features like the 4x4 wheel drive, 4-wheel steering including crab steering for better manoeuvrability in confined places, a tighter turning radius, joystick controls, hydraulic pressure transducers, close loop proportional hydraulics, and sliding gate for loading bucket, etc. "KYB-Conmat had earlier launched a 4 cubic meter SLCM; today, scores of these machines are successfully working on project sites. With the new features and capabilities, we expect to enter new markets and create new application areas for our SLCMs like concrete roads, large canal projects, high performance concrete projects, and even DLC projects," adds Verma
Schwing Stetter India's SLCM is produced at inline production facility at global manufacturing hub at Cheiyar, and can manufacture 300 machines per month. Recently, Schwing Stetter India inaugurated its fifth manufacturing facility in Cheyyar, Tamil Nadu. The state-of-the-art integrated facility of 52 acres comprising 50,000 m2 of built-up area will now become a global manufacturing hub for Schwing's concrete boom pumps, stationary pumps, self-loading mixers, shotcrete pumps, excavators, wheel loaders and motor graders.
VG Sakthi Kumar, Managing Director, Schwing Stetter (India), said, "Schwing Stetter was always close to the customer. Using the support of technology, we have taken innovative paths like meeting the customers virtually, having technical discussions and arrive at total concrete solutions without much of human involvement. This is keeping us busy at factory."
Schwing Stetter SLCMs come with 4- and 2-wheel drive. Crab modes are offered as standard to keep their turning radius low and also to help the machines work in confined spaces.
The SLCMs are presently being sold by Schwing Stetter's own distribution channels and are supported by the company's field service engineers across its 26 branches. Informs Sakthikumar, "Since the launch of our Global manufacturing hub this year, we have already doubled our manufacturing capacity to meet the growing demand for SLCMs."