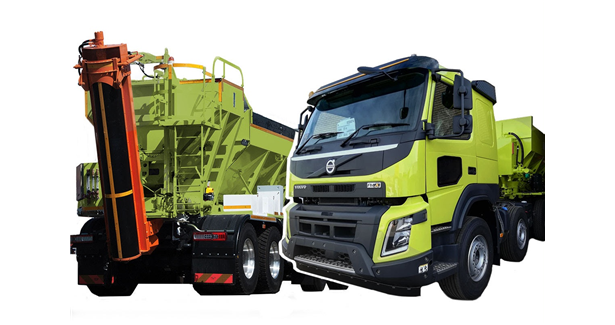 Cubic3 Direct, a dealer for concrete machinery and special vehicles, and KCP Heavy Industries, a South Korean manufacturer, have worked with Volvo Trucks dealer MC Truck and Bus to bring the KC3M8 mixer to market, a durable volumetric concrete mixer exceeding UK and EU regulations through the innovative use of Hardox steel produced by SAAB of Sweden.
Following a number of years of R&D, testing multiple prototypes and production mixer bodies over a combined 10 years of service, this collaboration took full advantage of the combined expertise in bodybuilding, volumetric mixers, materials and manufacturing. KCP has joined the Hardox In My Body campaign to celebrate this effective application of the high-quality steel.
Graham Jones from Cubic3 Direct, said, ?This volumetric mixer is the latest machine based on an established design. It is a culmination of decades of experience and I can?t wait to demonstrate the quality of this machine to our existing and new customers.? The KC3M8 volumetric mixer has a maximum payload of up to 8 cu m ? depending on chassis and mix design ? without sacrificing on build quality. This ensures that concrete firms could run their business without worry as the cost of repairs and warranty issues will cut into their profits and reputation for getting the job done quickly and on time.
The KC3 concrete mixer features: simple, user-friendly and fitter-friendly design; reliable operation over a long life; and accurate computer system, with manual overrides.
Fabricated in South Korea and featuring Hardox 400 aggregate hoppers since 2017, the KC3M8 is available now with a seven-year hopper warranty, five years of annual calibrations, and three-year hydraulic warranty. Parts and support will be provided by Cubic3 Direct with support from an experienced technical team and chassis bodybuilding workshops.