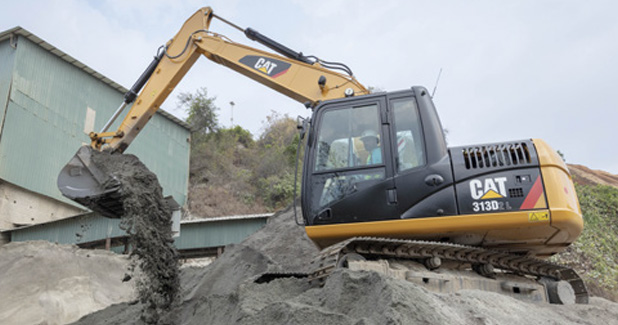 Caterpillar Inc launched its new hydraulic excavator, Cat® 313D2 L, in India. Manufactured at the Tiruvallur facility, the new excavator has unmatched versatility, improved controllability, easy operation and a comfortable redesigned operator station, according to the company.
The compact design of the machine utilises short tubes and lines, reducing friction and pressure drops, thus resulting in more efficiency with less power consumption. With the Cat C4.4 mechanical engine and efficient hydraulics system, the Cat 313D2 L provides excellent machine performance with low fuel consumption, the company says. Equipped with 0.76 cu m heavy duty bucket, the 313D2 L provides 7 per cent more fuel efficiency than its predecessor, the 313D2.
"This 13.5-ton excavator is the next big thing for Caterpillar India. Performance test results show the machine competes with the 20-ton offering in the market. Today, the industry dictates the use of 20-ton excavators in certain jobs which can be completed by the Cat 313D2 L. A few customers have already replaced their 20-ton excavator with this new model which does more work with less investment, less fuel and lower maintenance to save money for the customer," said Gurman Reen, Sales Director, Caterpillar India.
"The Cat 313D2 L, now manufactured in India, will shorten delivery times and become more affordable to the Indian customer," said V Chandrashekar, Managing Director and CEO of Gmmco.
The machine's US EPA Tier 3/EU Stage IIIA equivalent engine can run on biodiesel up to B20 that meets ASTM 6751 standards. The machine's hydraulic pumps deliver optimal power to outlast challenging applications.