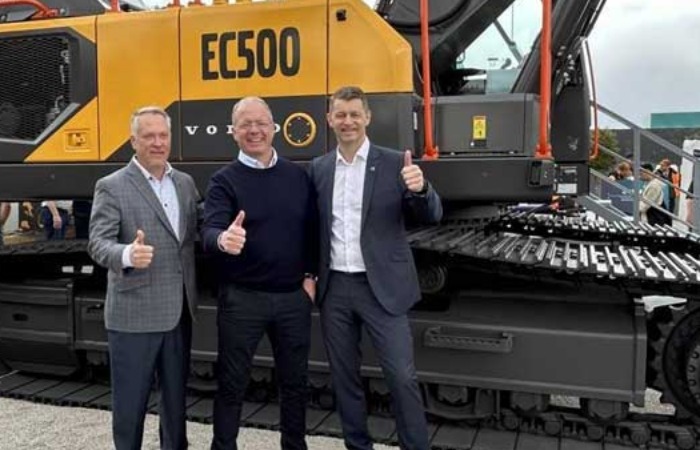 Volvo CE provided the first look at a pre-production model of its new EC500 excavator today at the CON EXPO trade show in Las Vegas, North America. This heralds a new generation of excavators, with improvements across cab design and operator interface, safety and productivity.
A successor to the Volvo EC480E, the EC500 is a new 50-tonne crawler excavator for the toughest applications, from building and construction, road construction, utilities, quarrying and aggregates to agriculture and landscaping and is the ideal partner for the Volvo A25G to A35G hauler. It will be available in regulated markets including North America, Europe and Korea.
Stephen Roy, President of Volvo CE North America, said: "We're excited to share the first look at our next generation excavator. A pre-production model, there will be some differences to the appearance of the EC500 that will be available to our customers, but it gives an insight into the future, with enhanced safety, operability and productivity.
"At Volvo CE we continue to proactively develop intelligent solutions to improve safety and avoid accidents on the jobsite, so the addition of Volvo Smart View with Obstacle Detection is another important step towards our vision for zero accidents."
The biggest change can be seen in the cabin design and styling, with new layout and features including high-definition co-pilot screen, keyless engine start, wired and wireless smart phone charging and new work mode switch.
A valuable new addition, Volvo Smart View with Obstacle Detection delivers significant safety benefits. Operators enjoy a 360-degree view thanks to an improved camera system and new radar detection system which provides automatic alerts when the excavator approaches any obstacle, identifying and classifying them as an object or human, and allowing the operator to take remedial action. Three-point access guard rails and a foldable top handrail for transportation are important new safety features.
This next generation of excavator is also set up to access a range of machine options to help operators complete their tasks faster, more easily and more safely, as well as boost their performance and productivity. These include the operator coaching app, Volvo Dig Assist - a suite of tools designed to help deliver excavator accuracy by eliminating the need to manually mark out a site and check depths and grades - and Volvo Lift Assist, all accessed via the Co-Pilot screen in the cab. Volvo Active Control an automated grading system and part of the Dig Assist suite of tools, will also be available for the first time on an excavator of this size.
Sejong Ko, Product Manager Excavators at Volvo CE North America, said: "With the EC500 and our next generation of excavators, we are utilizing new technologies to help operators work more productively and with more speed, precision and consistency, to help them get the job done every time."
New electric joysticks give the operator even more control over the hydraulic system. The hydraulic pumps can be operated together as well as virtually disconnected, allowing the operator to control the boom without affecting track speed, delivering safety benefits and a smoother ride for the operator. This also increases controllability, shortens cycle times and improves fuel efficiency —delivering higher productivity and performance.
Comfort Driver Control allows the operator to move forwards, backwards and steer with the joysticks. What's more, each operator can set up their own hydraulic settings based upon their preferences and the application they are working on and save them in Co-Pilot so they can be quickly and easily accessed for future sessions.