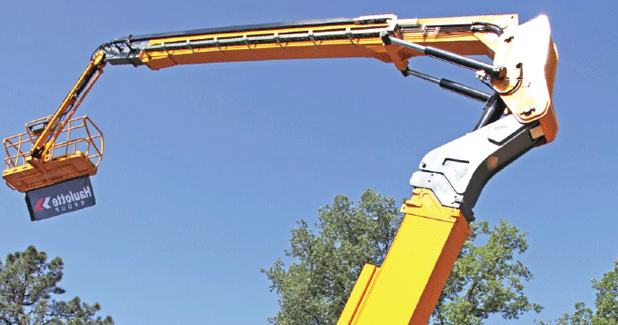 As the access equipment industry matures in India and users become more aware on the advantages of using such equipment over conventional practices of working at heights, the rental sector in India is poised for a very bright and promising future.
The access equipment industry in India is still at its nascent stage as compared to Europe, USA, Australia, Asia and BRIC nations like China, Russia and Brazil. The growth and demand of access equipment are mainly driven by rental companies. Says Souma Ray, Director, Haulotte India, ?In India, rental companies still prefer procuring old and used equipment over new machines owing to the low rental rates and severe competition from smaller players. In order for the Indian access equipment sector to mature, customers should not only look at the lowest rental rates, but also age and condition of machines because such equipment are directly related to safety. It is essential for customers hiring access equipment to be aware of the advantages of using newer and younger machines which have better performance, safety and thus better productivity as compared to older machines.?
He adds, ?We are very optimistic about a strong growth in the rental sector in the years ahead. As the access industry matures in India and users become more aware of the advantages of such equipment over conventional practices of working at heights, the rental sector in India is poised for a very bright and promising future.?
Says Pradeep Agarwal, Chief Executive Officer, Mtandt Group, ?With the government?s ?Make in India? campaign, now we have new opportunities ahead. Industry forecasts point to a multi-year up-cycle for equipment rentals, with an ongoing recovery in most of our end markets while showing secular bullish growth. Each day, more and more customers recognise the benefits of renting, and we seek to seize that opportunity and to further expand our role with our customers.?
?There is a huge growth potential for access equipment rental in the coming years and is bound to grow multifold. The increasing safety consciousness of industry, government and all other stake holders will also be a strong catalyst for this growth. The awareness and acceptability of access equipment has been quite good in the last few years and is going to increase in the coming years. The trend available shows a substantial increase in rental segment and the same is likely to strengthen further,? says Rakesh Kumar, Country Manager - AWP, Terex India. He adds, ?Rental segment is our main focus and we want to move hand-in-hand with them as our partners. We have already been providing necessary support for their growth and will further strengthen all our resources to provide them the best experience.?
According to Ray, since last year the industry has seen a spurt in demand of access equipment in the government sector. Companies like PowerGrid, NTPC, IFFCO, IOCL, HAL etc, have regularly been buying aerial work platforms (AWPs). He says, ?There is a generic shift towards buying diesel articulated booms, which is a good sign. Haulotte being one of the few all range manufacturers of aerial work platforms are able to meet the growing demands from such organisations. With the emphasis of the government on infrastructure, the demand for AWPs is set to grow. There is also an increase in requirement of such equipment on rent. We are focused on supporting our rental customers directly for their requirement of machines, spare parts, service and technical support and training.
Growth drivers
Access equipment are broadly classified into ?People Lifting Equipment? - push around, scissors lifts, vertical mast and boom lifts (articulated and telescopic); and ?Material Lifting Equipment? - telehandlers. The usage of access equipment is universal and not specific to any particular sector. Wherever there is a need to work safely at heights, access equipment is required. Be it hotels, malls, hospitals, warehouses, manufacturing industry, facility management, construction, mining, all across access equipment are required. Says Ray, ?With the focus today being on the infrastructure sector, we foresee a substantial demand of such equipment in this sector.?
Speaking about the growth drivers, Kumar had this to say. ?First of all, the increased safety aspect of working at height will drive this demand and as we move on, more focus on infrastructure growth will provide the requisite momentum to this demand. The proposed growth and development in industrial and commercial construction will definitely lead this growth. The increased activities in shipyard industry, ports, smart cities, airports, and residential constructions will add further fuel to this demand. In short, we expect a lot of upward movement with ?Make in India? plan.?
Says Agarwal, ?Infrastructure sector is a capital intensive segment which discourages companies to own capital equipment, operate and maintain them.This is a shear additional cost and burden to them. Thus, most of the companies prefer to outsource equipment requirement to rental companies who have technical expertise to operate and maintain them. Continued impetus is being provided to industrialisation and infrastructure development; along with the rise in demand for warehousing have been the key factors behind this growth in demand. The proposed ?smart cities? projects and upcoming of industries to develop their manufacturing units in India suggest a positive outlook.?
He adds, ?Policy initiatives such as FDI in retail have had a positive impact on this sector, proving good news for construction equipment manufacturers. With pre-engineered buildings (PEBs) becoming the preferred choice when it comes to industrial buildings and warehouses, the demand for access equipment has been on the rise. Thus, a positive growth potential is expected for access equipment in future with YoY growth of at least 20 per cent.?
According to Agarwal, one of the growth drivers of demand will be the change in taxation policy. ?The upcoming of GST will fuel up the growth of warehouses in the country thereby bringing an increased demand in use of aerial work platforms and material handling equipment,? says Agarwal. He further adds, ?The upcoming infrastructure development and development of TIER-II cities is sure to up the demand of boom lifts, scissor lifts and scaffolds. A company in such a condition requires having pan India presence. We at Mtandt have outgrown our wings and spanned our operations in all directions, as a result, we are quite prepared to provide our rental services to the construction coming up in these areas.?
Challenges
Business is all about taking risk. There will always be a gamut of challenges awaiting and this makes the business all the more exciting. Agarwal sheds light on some of the challenges that the industry faces such as:
High operational cost: Maintenance of machines, capital burden of stocking these machines, carrying the machines to the desired location are some of the various sub challenges under this head
Logistics: Equipment rental companies are vastly depended on transporter for moving machines from one site to another on a trailer. While crossing borders, various documents are demanded, the complex document procedure which varies everywhere, imposed entry taxes and octroi are time consuming and frustrating many a time.
Managing needs of the customers: Customer?s requirement for access platforms varies as per his need, thus to match them rental company has to invest on huge diverse fleet of equipment. This means the cost of maintenance and keeping spares increases tremendously.
Increased competition: Equipment rental is one of the most unorganised and fragmented businesses in India. We have very few organised players in this segment but there are mushrooming number of small rental companies who provide equipment at an errant price. However, they are not well maintained machines and are potentially dangerous to work upon with. Big companies and corporate players still prefer rental partners of repute as safety is of prime importance to them.
Skilled manpower: Availability of skilled manpower like operators, hydraulic engineers, and site supervisor is very less and training unskilled manpower is expensive and time consuming and their attrition remains a point of concern.
According to Ray, the biggest challenges that the Indian access equipment industry faces are the lack of legislations in the country for working at heights and non-restricted import of old cheap access equipment from developed countries. As a cascading effect, the rental industry growth is affected. Further issues that plague the rental industry impeding their growth are the differential rates of taxations in different states, lack of awareness in end users towards the advantages of using younger machines, lower rental rates because of smaller players offering unviable rates coupled with delays in payments from the users. Says Ray, ?In order for the rental sector to grow, the best practices followed across the developed economies needs to be incorporated like standard and clear contracts (preferably long term) and better payment terms. This will encourage the rental players to offer newer machines and support to their clients.?
Kumar had this to say. ?The movement of the machines across the country crossing different states is a major challenge due to different taxes and documentation. Hopefully, the proposed GST may sort out most of the issues in this regard. The other issues like rental rates, payment delays are similar to the situation being faced by other industry across the country.?
Safety issues
In most of the cases, safety is equated with investment not with higher productivity. To what extent this notion has impacted the growth of the access equipment rental? Says Ray, ?It is sad that although India is the most prominent emerging economy in the world today, there is a severe lacuna in concern towards safety. The general thought is that investment towards safety is an unnecessary burden whilst it actually enhances the productivity. The awareness and inculcation of the best practices of safety needs to get imbibed in each one of us. It is very essential that the government makes strict legislations on safety, especially when working at heights. The number of fatal accidents which keep on happening due to use of conventional practices of working at heights followed in India needs to be stopped.?
Will implementation of stricter regulations help the industry? Ray adds, ?We hope that the government would come up with stringent regulations and this will certainly help in propelling the growth of the access industry including the rental sector.?
However, Kumar takes on a different angle. According to him, it is a myth, at least in the case of access equipment industry. ?Human life is the first and foremost thing and must be an integral part of any development. Even a small step to avoid injury or loss of life at work site is not only increases confidence of workers, morale of workforce but increases productivity also. The usage of access platform at work site not only increases the productivity by reducing the execution time of the project but also reduces the cost substantially,? Kumar says. ?We are hopeful that the safety regulation in this area will not only in place but will also be followed strictly by all stakeholders. It must be a united effort to make our work place safer and of course, government can take a lead in this regard,? he adds.?
Agarwal had this to say. ?Mtandt brings three aspects with all the range of products that it entrusts to ensure safety, productivity and convenience to the workplace. In the light of this we equate investment with these three dimensions. So we think a step ahead than others. As far as India is concerned, safety related facts are often ignored and this turns into a dismal picture and a bad play with the lives involved.? He adds, ?We value human principles as a result we would definitely want government to make strong amendments to ensure that safety procedures are followed in the industry. However, we would not want liability like changes where in we would have to get certificates issued that shall be of no use in its entirety. Yes, once the market is governed by protocols of safety all the unorganised conditions will have to comply as a result of which the business is expected to increase. However, proper checks and balances also have to be ensured along with bringing the rules and regulations on boards.?
Import impact
What is the impact of uncontrolled import of second hand equipment on the access equipment segment, especially rental of the same? Says Kumar, ?The uncontrolled import of second hand equipment is a point of concern mainly because of condition of equipment and its residual safe usage life. The continuous use of second hand equipment having crossed its normal usage life is always a potential safety concern. In the best interest of the safety at work place and industry, there must be some discouragement and demotivation towards use of such equipment at work site and some controlling mechanisms should be in place to avoid such situations.? According to Ray, the uncontrolled import of used access equipment from Europe, US, Australia and Middle East wherein such equipment has been scrapped due to age and usage is a major cause of worry. Rays explains, ?Unlike rest of the world, in India there is no embargo in the age of equipment that can be imported. This allows import of old access equipment which have lived their serviceable life. Such equipment are finding their way in the rental sector and being put to use. This has direct impact in safety while working at heights with such machines.?
Says Agarwal, ?There are small mushrooming players who are providing machines at lower rental cost because the machines have been imported at a lower cost. It can be highly detrimental as every asset used in access equipment has a pre-defined life and with a pre-defined life, improper maintenance or non-compliance to the safety standards can be tarnishing. With the sort of activities they are involved in, they are making the business unviable; as a result they are diluting the brand equity of the industry. Clients become skeptical when thinking to take roll of the services. They want trust and in absence of same they would prefer to buy equipment than renting it.?
Finance woes
Is availability of finance in the access equipment rental an issue? Says Kumar financing has been an issue initially when general awareness level about the access equipment was quite low. ?With the increased knowledge and awareness, the scenario has improved a lot in recent times. We, as an OEM has also encouraged financiers in this segment by providing lot of input and supports. Now, most of the financier feel comfortable and are coming forward to financing these equipment for rental segment also,? Kumar says. He also adds, ?We provide all technical support, guidance and financial possibilities through our financial arm Terex Financial Services to all rental companies associated with us.?
According to Ray, availability of finance is certainly an important driving factor for the growth of the access equipment industry. ?Although some banks and NBFC?s do financing of access equipment but it has yet to become popular. We at Haulotte assist our customers in finding suitable finance options.?
Says Agarwal, ?Financing can be observed in two aspects with respect to access equipment; one when buying the equipment and other when making provisions for their insurance. The company needs to be established and have a good brand name. We have established ourselves over the years thus we don?t face much of a problem in getting finances. Moreover the NBFCs have been increasing their support.?
Advantage training
Training is one of the most important aspects in access industry and this has been our prime focused area, according to Kumar. He says, ?We have our own training module for all equipment and we strictly follow the module while imparting training at site. The training is being imparted at site and is an integral part of routine process during handing over the machine at site. Apart from this, regular training is being conducted at various sites and different locations to suit most of the customers and rental companies. As we progress, we would like to increase the frequency of these training.?
Says Ray, ?At Haulotte we provide both operation and maintenance training to our customers. We have our own factory-trained trainer who is qualified to provide training for our entire range of equipment. The training services are offered to our dealers and as well as our rental customers. It is a continuous process and we believe in providing periodic training to our customers, which helps them in better usage and maintenance of their Haulotte machines.?
According to Agarwal, training of the personnel is the first priority of the company. He says, ?Our Managing Director Rakesh Modi is a stalwart in the industry of training. He is trained from France?s Petzl institute and is a regular trainer at several renowned institutes like Castrol, Suzlon etc. We have two legs of training done at regular intervals of time. The operators undergo a rigorous routine training for the device they have been allocated to. The other employees from the sales who demonstrate the device are also given proper training. Every new product inducted is not straightaway handed over to a novice. Mocks, training tests etc. are done to ensure that personnel are trained suitably. All this is carried out by a certified team.?
He adds, ?The latest trends that can be observed in the industry is increasing level of customisation of the products to suit the business type and business needs. With the level of constructions becoming complex so is the demand for equipment increasing. And to save on costs companies would prefer to rent the equipments. Thus in future we wish to grow on our fleet and services, thereby making our customers happy and well serviced.?
Way ahead
The Indian access equipment industry is poised for an exponential growth in the next five years. With the increase in awareness of multifarious use of such equipment the need of using aerial work platforms would become an essential requirement across all sectors. Ray is very confident. He says, ?With the huge impetus that the central government is putting on infrastructure, the overall outlook is very positive and we are sure that there would be an increase in requirement of such access equipment across the country. This is good news for the growth of this industry and a sign of better days to come. We are of the view that the total size of the market would at least double if not more, in the coming years.?
Kumar sums up on a high note, ?There is a huge growth potential of access equipment in our country. As we expect the next five years to most happening years with lot of industrial and infrastructure activities lined up, the substantial growth of access equipment is also expected. In short, I am highly optimistic, that next 5-10 years are likely to be the year for access equipment.? And accessing heights safely is sure to push the demand for access equipment rental.
GROWTH DRIVERS
The total size of the access equipment market to at least double in the coming years YOY growth of at least 20 per cent expected
Development of Tier-II cities to up the demand for boom lifts, scissor lifts and scaffolds. Rise in demand for warehousing to boost the demand.
Pre-engineered buildings to further the demand The increased activities in shipyard industry, ports, smart cities, airports
Mtandt - Cometitive Advantages
The USP of the rental division business is the trust that we have built with our customers over the years. Safety, productivity and convenience are our three pillars define our competitive edge. We believe that we benefit from the following competitive advantages:
Large and diverse rental fleet: Mtandt?s large and diverse fleet allows us to serve large customers that require substantial quantities and/or wide varieties of equipment. We believe our ability to serve such customers should allow us to improve our performance and enhance our market leadership position. We manage our rental fleet, which is the largest and most comprehensive in the industry, utilizing a lifecycle approach that focuses on satisfying customer demand and optimising utilisation levels.
Significant purchasing power: We purchase large amounts of equipment, which enables us to negotiate favorable pricing, warranty and other terms with our OEM Suppliers.
Strong brand recognition: As the largest equipment rental company in the world, we have strong brand recognition, which helps us attract new customers and build customer loyalty.
Geographic and customer diversity: Mtandt?s customer base is a diverse mix of construction and industrial companies, utilities, municipalities, government agencies and others.
Strong and motivated team: We believe that our team is among the most knowledgeable and experienced in the industry, and we empower them, within budgetary guidelines, to make day-to-day decisions concerning branch matters.
Employee training programs: We are dedicated to providing training and development opportunities to our employees. Our employees undergo comprehensive training programs, including safety training, sales and leadership training, equipment-related training from our suppliers and online courses covering a variety of relevant subjects.
Agith G Antony