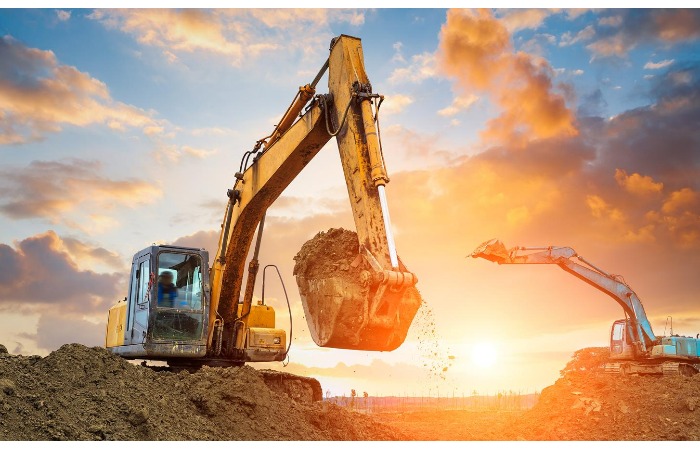 Excavator market is one of the largest growing construction equipment segments in India. According to a research report from Off Highway Research, "Sales of crawler excavators in India rebounded last year following the Covid-19 pandemic. Although 2022 been dogged by the same supply chain issues, which have impacted markets around the world, as well as the negative effects of inflation, the excavator market should grow again and reach 25,000 units."
That would almost equal the previous high set in 2018. Further growth next year should see a record volume of excavators sold – Off-Highway Research's forecast is for the market to reach 28,000 machines. There is no surprise on this growth considering the ongoing infrastructure developments and the revival in mining. Hydraulic excavators are the most widely used earthmoving equipment in heavy duty operation.
As equipment with the widest applications across the infrastructure development value chain, it is imperative for hydraulic excavator performs with maximum efficiency and be productive.
Says Samir Bansal, General Manager – India, Off-Highway Research, "Construction equipment demand peaked at 68,193 units in 2011, but sales declined successively for the next three years to 44,514 units in 2014. The trend reversed and the market started to grow as a result of the Government's renewed focus on infrastructural development and related policies and administrative reforms. The construction equipment market grew by 2 per cent to 45,371 units in 2015, 37 per cent to 61,965 units in 2016 and 18 per cent to 73,031 units in 2017, breaching the earlier high of 2011."
He added, "Among large volume equipment, crawler excavators grew 33 per cent in 2021, mobile cranes 34 per cent and wheeled loaders 31 per cent. Mini excavators witnessed an impressive rise of 50 per cent, while rigid dump trucks registered very strong growth of 70 per cent in 2021."
There is an increased focus by the current government on infrastructure development and it is monitoring all projects at the highest level to swiftly remove obstacles to growth. It is taking continuous initiatives to hasten the pace of project execution such as policy, procedural, administrative, and legal reforms, faster environment, and forest clearances, and resolving land acquisition issues.
Being the widely used and primary equipment at construction and mining sites, hydraulic excavator's availability, its optimum utilisation and reliability are key factors for successful completion of any project on time. With a wide range of jobs being undertaken by the excavator, it is essential that the machine capability is understood, operator is trained and the machine utilisation is optimised based on site condition and working environment.
The surge in infrastructure development projects across India such as Delhi-Mumbai Trade Corridor ($90 billion), Gujarat International Finance Tec-City ($20 billion), Chennai Metro Rail ($14.9 billion) and Diamond Quadrilateral ($13 billion). The Indian Railway infrastructure will see an investment of $715.4 billion by 2030. With respect to the wide scope of utilisation in general construction and special applications, hydraulic excavators will find more demand in the market in the coming years.
"Mordor Market Intelligence report has projected India's construction equipment rental market to register a CAGR of about 5.1 per cent during 2020- 2025. The equipment rental market can be segmented based on product into earthmoving machinery, material handling machinery, and concrete and road construction machinery. Earthmoving machinery such as excavators, backhoe loaders enjoy enormous demand around the world as it has a wide application in construction and mining," said Satin Sachdeva, Secretary General, Construction Equipment Rental Association (CERA) and member of Global Rental Alliance (GRA).
Technological trends
When the world was talking of carbon fuel, L&T pioneered the development of electrically-driven Excavators during the 1980s. L&T engineers designed and developed electrically-driven excavator models 90CKE and 300CKE and introduced these two futuristic products back then. These were successfully developed with electric drive, in place of a diesel engine, and accepted by users. These machines drew power through a power cable plugged into an HT field switch. We have supplied more than 200 L&T 300 CK (Electric) for mining applications over the past three decades.
In a related perspective, L&T recently supplied, erected, and commissioned Komatsu's large-size electrically operated shovel, PC3000, to a large coal company despite the Covid limitations. The mining industry is looking at increasing the share of electrically-driven shovels and excavators.
During Excon in Bengaluru, JCB India launched a 22-tonne hydraulic excavator on the NXT platform that is specially designed for Indian applications. The company also introduced the industry's first fully electric excavator – the JCB 19C-1E.
Arvind K Garg, Executive Vice-President and Head, L&T Construction & Mining Machinery, said, " "truly efficient" hydraulic excavators, developed especially for Indian customers, have pushed the efficiency to the next level. These machines with technologies like viscous-fan clutch and the like have enabled the customers to get all the power developed by the engine at the hydraulic pump with very low energy loss on account of peripherals on the engine (Gross hp ~ Net hp). Improved hydraulics and load sensing variable horsepower configuration have enabled these machines to provide unmatched fuel efficiency while ensuring the highest productivity, to our customers."
He added, "PC210/PC210LC-10M0 machines crossing the 2000-machine mark in less than 18 active sales months, since the start of sales in January 2020, is a true testimony to customers patronising advanced technology and the "Truly Efficient" product that has created history in the 22-tonne market with its credibility and reliability. Komatsu's current engines, fitted on construction and mining equipment, are capable of operating with B20 bio-diesel. We will be shortly conducting trials at a few sites. However, supply chain, quality, and standardisation challenges related to bio-fuel needs to be addressed before we could scale it up."
Said Deepak Shetty, CEO and Managing Director of JCB India, "Innovation and sustainability have always remained critical to our operations, and we continue to introduce products that significantly limit their impact on the environment. The JCB 19C-1E is the industry's first fully electric excavator in India and is integral to JCB's 'Road to Zero' initiative, a programme that we have been working on for the past few years."
JCB 19C-1E is a zero-emission machine and has four lithium-ion batteries that power the machine for a full day on a single charge. With a significant focus on safety and productivity, JCB's 2GO system safely isolates all controls as a secondary safety system. It's auto-idle and auto kick-up redistribute power to preserve battery life. The machine has been introduced after rigorous testing and validation.
"The machine has been tested extensively and has various built-in features that enhance safety and performance. With zero emissions and low noise, this new machine is ideal for infrastructure development in urban areas and indoor working," Shetty added.
Tata Hitachi Construction Machinery launched its advanced cutting-edge EX70 Prime Series hydraulic excavator from its Dharwad Plant. This launch signals the introduction of Tata Hitachi's new range of Prime Series hydraulic excavators.
This machine offers the Prime Advantage of covering the 360-degree requirements of a customer in a 7-tonne excavator in terms of performance, dependability, comfort, safety, connectivity, and versatility. Tata Hitachi's EX70 Prime Series hydraulic excavator sets benchmarks in all these areas and has been designed to provide precision, control, high fuel efficiency, high productivity, superior operator comfort, excellent versatility, and unmatched return on investment.
The machine is powered by a next-generation engine with 20 per cent higher torque, which is also compatible with futuristic emission norms. Technologies like auto idle, auto deceleration, dial-type throttle, dual work modes, fuel-saving pump systems, and hydraulic regeneration systems ensure the least possible fuel consumption. In addition, Hitachi's advanced hydraulic system; iOHS (Intelligent Optimum Hydraulic System) ensures higher productivity with enhanced fuel efficiency. The machine is also easily customisable with various attachments, as well as a variety of bucket sizes for a wide range of applications.
Tata Hitachi's promise of durability extends to this machine too in terms of features such as strengthened arm bucket joint, reinforced HD track frame, track guard as standard fitment, and strengthened bucket. Higher reliability is ensured through proven Hitachi technology as well as proven and reliable hydraulic aggregates that are tested and validated to international standards.
Operator comfort and safety have been a hallmark of Tata Hitachi machines, given that the operator cabin is the first point of a direct interface between man and machine. The EX70 Prime Series Hydraulic Excavator boasts smoother operating levers that entail 30 per cent reduced effort of operations. All the operations including travel and dozer are 100 per cent pilot controlled. The cabin is also designed with creature comforts such as FM Radio with USB support, an option for air conditioner, and a weight adjustable suspension seat with multiple adjustments. A mandatory seat belt, front guard, anti-skid tapes, baffle plates to separate hot and cold zones, and a starter motor with a thermal cut-off to prevent over cranking complete the cabin in terms of safety.
The machine comes equipped with InSite, Tata Hitachi's telematics suite that helps in online monitoring of the operation, location, health, and alarm status of the machine. This greatly enhances the ability to reduce machine downtime thereby further boosting performance and productivity. The reliability and durability of Tata Hitachi machines ensure longer service intervals by default. However, the company's proven, demonstrated and widespread service support ensures easy and faster availability of service and spares, which is further augmented by the extensive fleet of Field Diagnostic Vehicles (FDVs) and mobile workshops.
BEML is indigenously manufacturing and supplying various capacities of hydraulic excavators with latest technologies: BE75 hydraulic excavator – 7.5 tonne class; BE220G hydraulic excavator – 22 tonne class; BE300LC hydraulic excavator – 30 tonne class; BE700 hydraulic excavator – 70 tonne class; BE1000-1/BE1000E-1 hydraulic excavator – 100 tonne class (diesel and electric versions); and BE1800E/BE1800D – 180 tonne class (electric and diesel versions).
Keeping up with the latest trend in vehicle system electrification and advanced safety systems, MV Rajasekhar, Director (Mining and Construction), BEML, said, "BEML is geared up for developing high-end shovels with AC electrical motors and drives. BEML has already developed and supplied 100 and 180 tonne class electrically driven hydraulic excavators with 6.6 kV HT induction motor as prime mover. These machines have zero emission, low maintenance and ownership cost. Further BEML is also geared up to meet CEV stage IV diesel engine norms to meet upcoming statutory requirement for mining and construction equipment. BEML equipment has also been upgraded with GPS ready cabin by facilitating vehicle critical data portability through single universal port for fleet management system by our customers."
He added, "While migrating from conventional design, digitalisation and advanced technologies are being introduced, in phased manner; in BEML excavators by including telematics-based real time monitoring, data analytics and preventive and predictive maintenance which provides prognostic solutions. BEML is also working and focusing to implement ADAS (Advanced driver assistance system) and AI-based autonomous equipment as these technologies creates several opportunities for market growth."
Schwing Stetter (India) has a range of excavators – 4 tonne to 52 tonne capacity including mini small medium and large excavators. The company Managing Director VG Sakthi Kumar said, "We are also looking to provide a tailored-made solution for Indian customer. The products we designed for Indian market are appreciated by the end users. Recently, we launched our mini XE40U – 4.2 tonne and XE520C – 50 tonne. A few more models are in pipeline to serve Indian customers."
India is a developing nation that has huge potential in infrastructure creation especially in the mining industry. Currently the government knows that infrastructure and mining is a key economic driver and is currently enjoying an intense government focus that should spur on demand for construction equipment throughout the country. Since India is a major producer of minerals and ores amongst top five iron ore producers in the world and both the government and the private sector participate in its mining.
Added Sakthi Kumar, "We always believe to deliver latest product to our customers. Our excavator range has been built on global platform equipped with world-class renowned components which makes product technological advance. Apart from this our excavators are telematic-enabled which provides freedom to customers to monitor machine from anywhere. With our telematics, the customers get higher security optimum operational efficiency easier and precise fleet monitoring which increases machine productivity reduced costs and improved fleet utilisation."
He added, "On global level, our team is working to incorporate autonomous in mining excavators that operates from remote control. A few of models—XE900D XE225BR and ET120— have already been introduced on the global platform. This technical advancement is the biggest advantage for the mining industry."
XE900D has a total weight of 90 tonne and 535-horsepower engine. The machine is a first-choice product for mid-to-large scale opencast mining tasks such as for operation in metal mines for iron copper and gold thanks to its best-in-class power digging force and advanced stability durability and safety. It also brings higher efficiency while maintaining a low level of fuel consumption.
ET120 walking excavator and XE225BR intelligent hydraulic excavator autonomously operated but controlled remotely. These two unmanned machines have significant advantages in terrain mobility and environment adaptability and are a top choice for local construction partners working in complicated geographical conditions.
Road ahead
Rajasekhar says, "With the future infrastructure development plans in place; we envisage there will be demand and continuous growth for hydraulic excavators in infrastructure sector in India. As far as coal mining sector is concerned, there will be demand for higher capacity hydraulic excavators. However, with renewable energy picking up, the requirements of hydraulic excavators from coal mining sector will either reduce or will remain stagnant in future. However, in non-coal mining sectors like iron ore mining (steel), limestone mining (cement), aluminium, zinc, etc. there will be demand and continuous growth for hydraulic excavators in future."
The market still has a huge potential, but its rate of growth depends on the government and private investment in these sectors, the speed of planning and execution of infrastructure projects. The general atmosphere for the infrastructural development in the country is conducive for growth in construction and mining activity, and the government is monitoring all projects at the highest level to swiftly remove any obstacles.
Going forward, the Indian construction equipment market will primarily be driven by construction, mining and other infrastructural development activities, which will be supported by the macroeconomic situation, policy and reforms, and availability of funds.
Based on all foreseeable factors, the Indian construction equipment market is expected to follow an upward trend in the next five years. Off-Highway Research forecasts it to grow by 11 per cent to 90,950 units in 2022 and a further 8 per cent to 98,550 units in 2023. Sales of construction equipment are predicted to fall 7 per cent to 91,800 units in 2024 but will bounce back with a 9 per cent growth to 100,100 units in 2025 and a further 6 per cent to peak at 106,200 units in 2026. This forecast assumes no further wave of COVID-19 will hit the country.
The long-term future trend remains positive, and demand is expected to grow with a CAGR of 10 per cent during 2022-2026 and reach 30,000 units in 2026 except 2024 when general elections are expected in the country.
Five key maintenance practices
Clean your machinery:
It is a perfect way to keep equipment safe and running. Dirt grime and debris accumulate on and in parts of the equipment which can damage parts and machine can malfunction. Therefore it is important to clean the machine and its parts thoroughly and regularly as equipment has to do difficult and dirty work which can alter the performance of the machine. However cleaning should be done in a way as prescribed by OEM.
Train employees to operate the equipment: Unskilled operator can damage the equipment and can put own safety or of other workers at risk. Therefore to protect your employees and equipment all workers should be properly trained to operate the equipment.
Lubricate your equipment carefully: Heavy equipment and associated parts and tools will malfunction or become damaged if they are not lubricated properly. Moving parts and components need lubrication because the frequent movement causes friction. It is advised to use right oil and lubricants as prescribed in manual.
Preventive maintenance and regular inspection: Regular equipment inspections go hand-in-hand with preventive maintenance. Both save unnecessary breakdowns and save costs for a rental company. Therefore we also advise rental companies to use telematics and equipment management software. Small problems that are not repaired may eventually become bigger problems and incur costs and losses.
Use the right spare parts and tools: First do not use spurious spare parts. Second do not use them if they do not fit or are not compatible. If you do this you put your machinery at risk. Employees are also at risk. Always read manufacturer's manuals and find the right spare parts and tools.