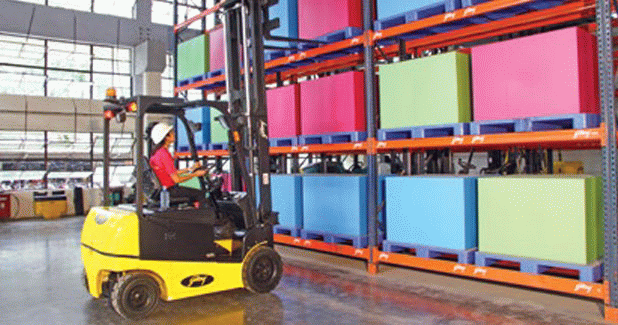 As a responsible OEM, Godrej Material Handling has a goal to make India an accident-free country.
F N Bharucha
explains the company?s training initiatives towards achieving this goal.
Material handling equipment is mainly used in industries to lift and move heavy materials from one place to another. In recent years, forklift technology has progressed tremendously. For companies owning these equipment, maintenance is important and beneficial in the long run. However, several industries possessing these equipment and using them in day-to-day operations, overlook the human factor associated with the same. The first and the foremost aspect about forklift safety relates to understanding the fact that these are heavy and powerful machines. It does not take much for them to create havoc. As a result, people operating these lift trucks need to be certified and trained properly.
The role played by an operator is the key behind ensuring proper and safe use of forklifts. It is important that organisations get their operators trained and certified. For organisations having forklift operators, continuous training with regards to safety during operations and other aspects of the truck are important.
Godrej Material Handling, as a pioneer in manufacturing forklifts and other material handling equipment in India, cares about the safety and health of personnel engaged in operating these machines. Keeping this goal in mind, Godrej has designed comprehensive training programmes catering to all personnel across the entire spectrum of operation and maintenance of these machines. These programmes are being conducted at its Training Centre at Mumbai since 1988. Alternately, they are also conducted for owners of large fleets at their own premises. Many esteemed organisations have benefited from these programmes and success of the same can be gauged from the fact that most of these organisations have been asking for repeat programmes year-on-year!
For us at Godrej Material Handling, operator safety comes first every time, all the time! We believe that our responsibility goes beyond merely selling and servicing the equipment and extends to caring for the safety and health of all who work with our equipment.
Training programmes
Our training programmes comprise both classroom and practical sessions whereby the aspiring operator understands all aspects of safe operation of the machine. Godrej offers training programmes which cover a wide audience. Organisations can pick and choose programmes to suit their personnel. Primary among these programmes are:
Training freshers aspiring to become forklift operators
Training experienced operators
Conducting refresher training programmes for operators who have undergone the earlier module.
Training technicians to maintain and repair forklifts
Train the trainers - designed for developing in-house training specialists for organisations having a large number of operators.
Certifying operators under the Pradhan Mantri Kaushalya Vikas Yojana (PMKVY) The duration of the training programmes vary from one day (for experienced operators) to a three-week module for operators aspiring certification under the PMKVY.
Godrej releases a training calendar for circulation among its customers, dealers and candidates desirous to take up a career as an operator in the material handling industry. The calendar allows operators to pick the course fulfilling their expectations. The training programmes conducted by Godrej comply with international standards (OSHA 29 CFR1910.178) as well as Indian standards for training of forklift operators (LSC/Q 0201).
The programmes typically cover classifications of forklifts, physics of the forklift, main components, terminologies, pre-operational checks, safety while driving ? the dos and don?ts, etc.
Candidates go through extensive hands-on training on the forklift to gain confidence in operating the forklift - in the right way!
Affiliation with LSC
Godrej has been accredited as a Training Partner with the Logistics Sector Skill Council (LSC) under the National Skill Development Corporation (NSDC). With this, Godrej Material Handling becomes the first forklift training school in India to get this prestigious affiliation.
Candidates enrolling for the above scheme are trained extensively by Godrej on forklifts and reach trucks, and on completion of the training course, are assessed by the LSC. A certificate is awarded to the candidate by the Government of India on successful assessment. This qualifies the candidate as a skilled forklift operator. This programme has received an overwhelming response from various sections of society and at the time of going to press, 80 candidates have been assessed and certified by the LSC in a short duration of four months.
Godrej plans to carry forward this initiative across the geographical reach of India. The company has collaborated with Centurion University of Technology and Management, Bhubaneswar to train candidates from the tribal belts of Odisha in operating forklifts. This school has been training aspirants since May 2015. Successful candidates have found employment in industries, logistics parks and warehouses across India.
Godrej is also setting up a training school at Chennai to cater to candidates from the southern states. This school will be commissioned by June 2016.
The goal: Make India accident-free
It is the cherished goal of Godrej Material Handling, as a responsible OEM, to make India an accident-free country. We wish to spread the message through our training programmes that ?accidents do not just happen -they are caused? and it is possible to prevent accidents - each time, every time. Let us pledge to make India accident-free!
The author is Head - Training, Godrej Material Handling.