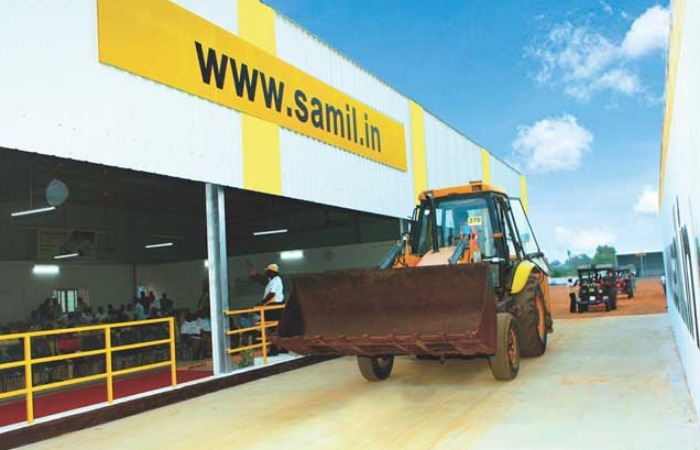 In a recent market update by CRISIL Research, the construction equipment (CE) sales saw a steep decline of 70 per cent in the April-June quarter of the current financial year and there will be a slowdown for the fiscal. On the contrary, the used equipment market is seeing continued growth during this period as many customers are now buying more used equipment in good condition, rather than investing in brand new equipment, to save capital expenditure in the current tough market conditions. During the April-June quarter of this year, Shriram Automall India (SAMIL) witnessed double the sales in every month compared to the preceding month. Apart from the presence of the organised players like SAMIL, the entry of many OEMs themselves into the business is helping the used equipment market grow considerably.
Growing demand
In the changing and challenging market conditions, small time contractors and rental players are looking at pre-owned equipment that are reliable and economical for all kinds of projects. As per a Shriram Automall survey titled 'Buyer's Vehicle Purchasing Behaviour Trend due to Covid-19', more than 90 per cent respondents want to purchase a pre-owned vehicle post the COVID-19. Similarly, pre-owned construction equipment will be preferred over new ones due to reasons of value for money, affordable price, lesser depreciation rate and easy availability through organised players. Sameer Malhotra, CEO, Shriram Automall India, explains, "At Shriram Automall, we have witnessed double the sales in every month compared to the preceding month in the first quarter of the ongoing financial year. According to CRISIL Research, construction equipment sales have been declined by 70 per cent in the first quarter of FY 2020-21. However, we have reached almost a normal level in the months of June and July 2020."
Anant Raj Kanoria, CEO, iQuippo, is also anticipating a similar scenario as people want to own used equipment to manage costs, given the COVID scenario. He adds, "This year there will be a huge demand for used equipment and we are seeing this with the increased volume of sales through our platform. We are also working with OEMs to assist customers with exchange programs and get their equipment refurbished and redeployed. Additionally, we are witnessing that there is a huge mechanisation happening from the rural areas due to the social distancing norms and shortage of labour."
Potential buyers
Used equipment are generally suited for small time construction and maintenance contractors, rental fleets and first-time buyers. According to Malhotra, first-time buyers and/or machine operators, small and medium sized contractors prefer used equipment for their operations. Brokers are also in the market for used equipment and facilitate buying for their clients. Rental companies also look forward for used equipment to a certain proportionate of their fleet size. "Over the time, Shriram Automall's initiatives have transformed several machine operators to owners," claims Malhotra.
Kanoria adds, "Usually small contractors or individuals with rental operations where the workload is fairly less, is where the clients prefer used equipment. We also see that if the contract is shorter, then also a fairly good condition machine is used." However, Kunal Gala, Director, JNK Lifters, is of the view that all customers including big contractors use pre-owned equipment in their projects, provided these equipment are within the specified age limit. He adds, "Our fleet has 80-90 per cent used equipment. We offer used equipment in very good condition and the customers can avail the equipment at lower rental rates with almost matching quality of a new equipment."
Going forward, there is more demand expected for used and refurbished equipment which will support the customers economically. Also, with many OEMs are actively involved in the supply of used and refurbished equipment in the market, many small and large users can obtain the service of these certified used equipment for a better use at reasonable price.
According to the Shriram Automall survey, 77 per cent respondents have reduced their budget to purchase a vehicle post COVID-19. So, value for money is going to be the significant factor in purchasing decision of construction equipment. Malhotra elaborates on the trend, "Trust deficit for used equipment has significantly improved due to ever increasing existence of organised players and OEMs entering into used business. Considering the current economic condition, pre-owned construction equipment provides the best value for money which is a lucrative deal for a buyer. So, pre-owned construction equipment brings immense opportunity to foster the construction activities to roll-back the economy on track."
Age and quality count
Age and quality of the machine play a big role apart from price, in choosing the equipment as it will determine what it can be used for. Kanoria points out, "The better the maintenance sheet, higher the value an equipment would fetch. We generally see that in India there is a lot of wear and tear on the equipment, and owners want to usually sell them after 5-6 years. However, in the current scenario, there are equipment of lower age and this improves the re-utilisation of the equipment. Therefore, quality of the asset and the brand is what drives resale of the equipment."
According to Malhotra, the growing trust factor in used equipment and availability of all kinds of equipment through organised players should drive the sales of used equipment. He adds, "Being the industry leader, we at Shriram Automall provide all kind of equipment under a single roof to choose the right one as per buyer's budget and preference. Buyers who are looking for comparatively newer used equipment with less operating hours opt for repossessed assets by banks and NBFCs as most of these assets are available at the age group of 3 to 5 years old."
BRANDS WITH BETTER RESALE VALUE
| | |
| --- | --- |
| Equipment Category | Brands |
| Backhoe Loaders | JCB, CASE, Tata Hitachi, Terex |
| Excavators | Tata Hitachi, Caterpillar, Komatsu, Kobelco, Hyundai |
| Compactors | CASE, Escorts, Volvo, Dynapac |
| Mobile Cranes | ACE, Escorts |
| Wheel Loaders | Caterpillar, JCB, Volvo, Komatsu |
| Motor Graders | Caterpillar, Komatsu, Volvo |
Source: SAMIL
Organised platforms
With the used equipment market gaining momentum, organised players are offering total solutions for used equipment customers. For example, Shriram Automall provides the one-stop solution by creating the complete ecosystem for pre-owned construction equipment starting from parking, valuation, refurbishment, disposal and documentation. Malhotra adds, "We have recently introduced SAMIL Financial Services – Buy Now, Pay Later facility to accelerate the sales of pre-owned construction equipment while the economy is going through severe financial stress. We are also conducting a Grand CE Bidding Event every month to attract the eyeballs of buyers."
There's an opportunity to own good assets which might have got idle at this time and depending on the segment, their value would vary. According to Kanoria, even the prices are increasing gradually due to the growing demand. He suggests the way forward and plans at iQuippo, "Although we generally see that the used equipment prices are increasing because of its high demand, trade-in or exchange programs might be a good opportunity for customers to get new equipment at affordable financing options as well. I think there is a huge scope for financing clients in this space and we are working on products to cater to the specific needs of our customers. So, I believe that an exchange could bring about value for an asset owner and someone looking to start off can work with used equipment as the condition of the machines would be better than what it was before."
In the commercial vehicles (CVs) segment, Daimler India Commercial Vehicles (DICV) has just launched its used vehicle business platform, 'BharatBenz Exchange'. Under this programme, customers are able to trade-in used CVs of any brand for used or new BharatBenz vehicles at dealerships across India. Speaking on the new initiative at the launch, Satyakam Arya, Managing Director & CEO, Daimler India Commercial Vehicles, said, "As the number of BharatBenz owners rapidly increases, we feel it is the right time to tap the massive potential presented by the used commercial vehicle segment. We look forward to delivering BharatBenz's superior quality, service and TCO to an even larger customer base."
Over the years, the used equipment market has transformed from only physical to a mix of both physical and digital. Malhotra points out, "As the world is moving towards Phygital, we would like to continue our business in every possible way like physical bidding event, online bidding event and digital physical bidding event. We are already successfully conducting Grand CE Bidding Event once in a month which will be continued to attract buyers. Currently, we are operating at over 100 cities. In near future, we are planning to enter into another 100 cities to make available used equipment in every corner of India."
After launching its used vehicle platform for BharatBenz, DICV is in the process of digitalising services to better promote the used vehicle business. The company is also looking into tie-ups with leading online used vehicle platforms and auction houses in order to reach a larger customer base, according to the company.
The growing demand for used equipment can also push the price level upwards in future. But the evolving organised players in the used equipment segment who provide quality products and total service can benefit the customers in the long term.