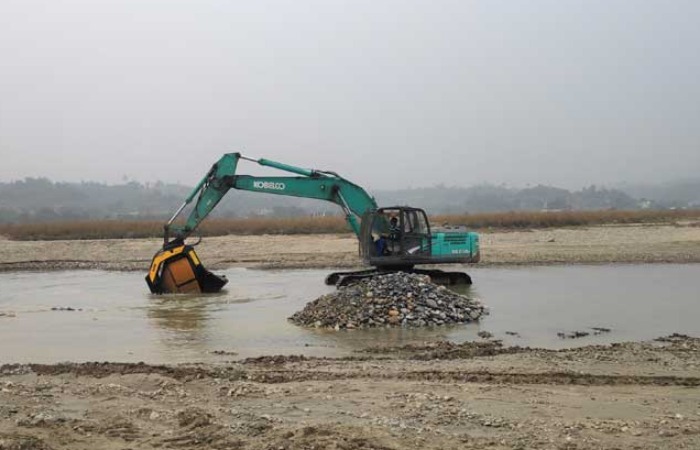 What are the key trends and developments you are observing in the Indian crushing and screening equipment market?
The Indian crushing and screening equipment market is experiencing a revival driven by a focus on customisation, quality, and services. With infrastructure projects and road construction gaining momentum, manufacturers are anticipating a 15 per cent year-on-year demand growth for new crushing and screening equipment. Efficiency, quick setup, and equipment mobility are in the spotlight. Excitingly, lifecycle service agreements are transforming maintenance. Plus, tailored pre- and after-sales services are taking the centrestage. At MB, we're ahead of the curve, offering easy-to-install, mobile and optimised crusher and screening buckets. Our dedicated service team ensures exceptional after-sales support.
What types of crushing and screening equipment do you offer in the Indian market?
Our product range isn't just extensive; it's a symphony of complementary innovation that includes crusher buckets, screening buckets, shafts screeners, drum cutters, and sorting grapples. Each of these products is meticulously designed and engineered to work with your excavator or backhoe loader and provide exceptional performance, efficiency, and versatility, aligning with the evolving demands of the Indian market.
The star of our installed base in India is the BF90.3 crusher bucket, our flagship crusher bucket across other markets as well that shook up the industry when it was introduced and patented back in 2001. This ingenious attachment for excavators is a force to be reckoned with, transforming inert materials into valuable resources right on the construction site. The BF90.3 crusher bucket's compact design conceals its immense versatility, refined over years of innovation to handle an array of crushing tasks effortlessly. It's designed for heavyweights, and excavators weighing over 21 tons, and its adjustable output size ranges from 20 mm to 140 mm, ensuring a tailored approach to every job.
On another note, the MB-S18 screening bucket is optimised for efficiently screening a wide array of materials. Its adaptability before or after crushing operations translates to up to a 60 per cent reduction in crushing time. Notably, the MB-S18 screening bucket accommodates the screening of various natural materials like quarry residue, dry soil, and river stone, facilitating on-site processing. It's an indispensable tool for material size optimization for specific applications. Featuring interchangeable modular panels with holes of varying sizes from 10 x 10mm to 100 x 100 mm, the MB screening buckets offer versatility to match specific requirements.
What kind of training and support do you provide to customers on the use and maintenance of your equipment?
At MB Crusher, our unwavering dedication revolves around delivering a holistic training and support experience to our esteemed clientele. This encompasses a dual focus on technical proficiency and maintenance know-how, both pivotal for optimising equipment utilisation and performance. To facilitate seamless engagements, we proudly present a specialised service team, diligently operational round-the-clock to provide on-site customer support, assuring immediate assistance whenever required. Our commitment transcends the point of purchase, resonating through the entire equipment lifecycle, as we remain steadfast in propelling our customers toward sustained success.
How do you stay informed about industry trends and technological advancements that could impact the crushing and screening equipment market?
We engage in a variety of activities and consistently monitor industry publications, attend prominent conferences and trade shows, and actively cultivate relationships with experts and peers within the field. This commitment to continuous learning allows us to anticipate market shifts and technological breakthroughs, enabling us to adapt and innovate effectively.