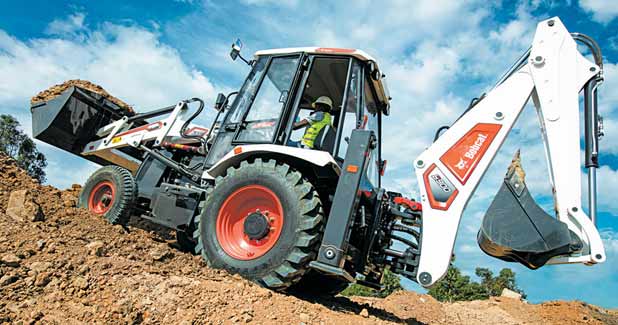 Doosan Bobcat has introduced the Bobcat brand B900 backhoe loader in India. The new machine demonstrates superior performance with best-in-class digging depth, higher breakout forces, increased component durability, comfortable operator cabin, advanced hydraulic system and excellent total cost of ownership advantages.
Features
Best-in-Class Digging Depth
Bobcat B900 offers higher maximum digging depth compared to other backhoe loaders in its class.
This makes B900 best performer in its class.
Optimised design for fuel efficiency and component durability:
Fuel efficiency
>> B900 is powered by popular and fuel efficient Kirloskar Engine, helps in better fuel consumption.
>> With optimised design of Bobcat B900, economy mode operations can be achieved with 1,400 rpm and power model can be achieved with 1,550 rpm. Higher performance, even at low engine rpm helps in great fuel savings.

Durability
>> B900 is equipped with Industry's best and proven components for long durability, higher performance and reduced maintenance.
>> Major structural items are reinforced to enhance life and manufactured inhouse with Bobcat manufacturing facility in Chennai.
>> Hydraulic hose distribution
box provided in backhoe hydraulic circuit of B900 for increased life of hydraulic hoses, less leakages and reduced down time.
Best-in-class breakout forces and higher performance

Breakout forces
>> B900 offers 7~10 per cent higher breakout forces. Higher breakout forces help in increased capability for working in hard ground excavation, higher dozing and loading performance.
Higher performance
>> Heavy-duty Carraro transmission and rear axle for higher torque and best performance with higher drawbar pull.
>> Front axle is provided with balanced cylinders for better steering performance and 16-degree oscillation for better performance at uneven terrains.
>> Higher ground clearance for better performance even at rough and undulated surface. Higher ground clearance also helps in protecting power train components from damages.
>> Best-in-class front wheel turning radius for higher manoeuverability and best performance to work in confined areas.
>> Large cooling package and more efficient cooling fan helps in working long hours without overheating issues and helps increase life of the components.
Comfortable operator cabin
Operator cabin is one of major consideration in B900 design. Spacious operator cabin with ergonomic controls and operator convenient features make B900 a preferred choice for comfortable operation. Stylish and dynamic design cabin provides all-round visibility for the operator from working position. Adjustable suspension seat provided as standard feature for enhanced operator comfort. Large side-view mirrors and additional rear view mirror improve rear visibility for more convenient and safe operation.
Large storage box and various storage compartments in the front and side panels provided for ideal storage and more keeping areas. Standard MP3 music player and cabin fan provided for operator comfort.
Advanced hydraulics system
B900 hydraulics is equipped with Parker tandem gear pump with advanced hydraulic system that automatically redirects hydraulic flow to tank when hydraulic functions are in neutral mode.
When there is higher hydraulic pressure requirement, flow from second pump is redirected to tank to reduce the load on engine.
These advanced hydraulic features will reduce power consumption from engine to ensure high fuel efficiency.
Total cost of ownership
Highly durable engine, hydraulics and powertrain components give longer life.
Lower fuel consumption and increased service interval for periodic maintenance results in low cost of ownership.