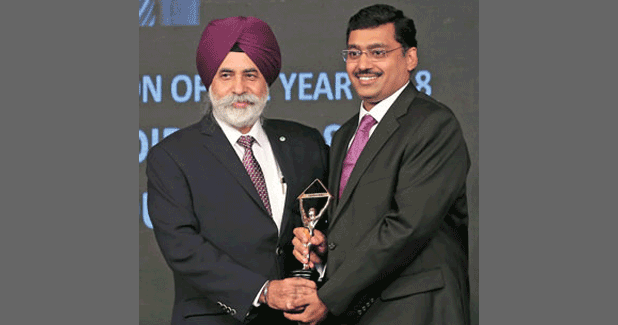 The sixth Annual EQUIPMENT INDIA Awards 2018 recognised and rewarded the top performers of Indian construction equipment industry. In a glittering ceremony held at the Taj Palace Hotel in New Delhi, the winners for the year 2018 received the awards for the achievements in their respective segments.
Beating the sweltering October heat, construction and infrastructure equipment industry stakeholders from India and the world gathered at the cool and bright auditorium of the Taj Palace Hotel in New Delhi, on October 25, 2018 to attend the 6th Annual EQUIPMENT INDIA Awards 2018 and Global Leaders Forum hosted by the FIRST Construction Council and supported by Apollo Tyres and the Economic Development Board, Andhra Pradesh. In a glittering award ceremony held in the evening, winners in 13 categories have been conferred on the EQUIPMENT INDIA Awards for their achievements in their respective segments. The awards were held as part of a global platform of India Construction Festival 2018, which comprised 8th India Roads Conference, Construction World/ENR Global Awards, the Construction World/ENR Leadership Summit and the Global Leaders Forum, apart from the EQUIPMENT INDIA Awards 2018.
The Global Leaders Forum
The upbeat mood of the construction and infrastructure sector in India was evident from the kind of turnout of industry leaders and the presentations at the two-day event. The Global Leaders Forum saw industry leaders from India and around the world debating and deliberating on the various issues and new opportunities in the Indian infrastructure and construction market.
Forecasting the growth of the construction equipment industry, Pratap Padode, Founder and President, FIRST Construction Council said, 'Sales of construction units are expected to rise from 76,000 units in 2018 to 120,000 units by 2021 taking the $5 billion industry to well above $9 billion. Speed breakers on the way include the elections and the switch over from manufacturing of BS CEV III, which will stop from October 1, 2020, to BS CEV IV rollout.'
Addressing the gathering on the occasion, Sandeep Mathur, Sales Head-OEM, Apollo Tyres said, 'With increased mechanisation happening, the machine reliability is becoming more important. Therefore, our teams are constantly working on innovating our products to meet the specific needs of our customers in areas of reliable performance and overall cost. We have launched our range of tyres for port applications, surface and underground mining, and the entire construction equipment range.'
And the winners are...
Twelve winners in various product categories have been recognised with Bestseller awards, apart from the EQUIPMENT INDIA Person of the Year 2018. The winners in Bestseller products are: CASE India in Compactors; JCB India in Backhoe Loaders; Action Construction Equipment in Mobile Cranes; BEML in Crawler Dozers and Rigid Dump Trucks; Caterpillar India in Wheeled Loaders and Motor Graders; Doosan Bobcat India in Skid-steer Loaders; Ammann India in Asphalt Finishers; Tata Hitachi Construction Machinery Co in Crawler Excavators and Mini Excavators; and Atlas Copco in Mobile Compressors.
Deepak Garg, Director and Cheif Executive Officer, SANY Heavy Industry India received the EQUIPMENT INDIA Person of the Year for 2018. He received the winner's trophy from Sandeep Singh, Managing Director, Tata Hitachi Construction Machinery Company, who was last year's winner of EQUIPMENT INDIA Person of the Year Award. Garg was chosen for the honour by an eminent eight-member jury for his contribution towards his organisation's aggressive growth in the country in the past year. He was instrumental in driving SANY to number one in mobile cranes and piling rigs in India. He has also made SANY India the fastest growing company in the construction equipment industry in India.
Receiving the award, Garg said, 'I am thankful to our customers to have trust and confidence in our brand and products. It was not easy for us to get this trust and confidence because we had to actually struggle a lot to get the brand imbibed into the industry in India. I thank all our customers for the trust and driving us to these heights in India.ö He also thanked the financiers and dealers for having the confidence in the brand and helping the company grow over the years.
'We, at SANY, have established a full range of solutions for the entire value chain of infrastructure construction under one roof for the construction companies. Our range of products have transformed the efficiency of the infrastructure projects over the last five years. This is complimented by a wide service network, strong cooperation with rental companies, associations and financiers to provide total solutions to the projects. Continuous localisation of R&D and manufacturing has enhanced the customisation and cost efficiencies, and has been the cornerstone of our success in India. Thanks to the confidence of our customers in SANY brand, we have grown over 10 times in the last five years in India and are now amongst the top five players in the construction equipment industry in South Asia and India,' added Garg.
The Special Guest during the event, Bhavna Saxena, Special Commissioner, Economic Development Board, Andhra Pradesh, praised all the winners for their efforts and hard work in achieving newer heights in their respective segments.
Jury: Equipment India Awards 2018
Farid Ahmed, Head-Marketing, Off-Highway Tyres, Apollo Tyres
Kennady V Kaippally, Country Manager-BU Mobile and Wind Solutions, Bonfiglioli Transmissions
Neerav Parmar, Vice President, Shapoorji Pallonji
Rajesh Nath, Managing Director, VDMA India
Sameer Malhotra, CEO, Shriram Automall India
Samir Bansal, General Manager-India, Off-Highway Research
SP Rajan, Head-Plant and Equipment, L&T Construction
TR Rao, Vice President (Infrastructure), PNC Infratech

Bestseller Awards - Winners
Category-Winner
Asphalt Finishers-Ammann India
Backhoe LoadersJCB India Compaction Equipment-CASE India
Crawler Dozers-BEML
Crawler Excavators-Tata Hitachi Construction Machinery Co
Mini Excavators-Tata Hitachi Construction Machinery Co
Mobile Cranes-Action Construction Equipment
Mobile Compressors-Atlas Copco (India)
Motor Graders-Caterpillar India
Rigid Dump Trucks-BEML
Skid-steer Loaders-Doosan Bobcat India
Wheeled Loaders-Caterpillar India

'We look forward to more and more localisation'
- Deepak Garg, Director and CEO, SANY Heavy Industry India
I am happy to receive this prestigious award. EQUIPMENT INDIA is a leading media publication in India and it is a great pride for me to receive this award on behalf of my company SANY.
While receiving this award, I am thankful to all our customers who have shown a lot of trust and confidence in our brand. They are the ones who have trusted our brand over the years and given us the chance to prove our mettle in the country. I would like to thank our dealers, vendor partners and also our financiers who have supported our journey to reach this point where we are. An important factor is the technology we were planning to customise for India, and different products we wanted to launch in various parts of our country. Thanks to our factories globally to support us in this technology transfer and the customisation we wanted. The most important is the leadership team of SANY and the whole team in India who worked relentlessly over the past 4-5 years to reach this stage in India today.
Our winning journey continues. That is what we are passionate about. The journey must continue as we grow bigger and reach newer heights in the years to come. Going forward, we look forward to more and more localisation, more of Make in India and more products to support the infrastructure construction industry. We see Make in India as the key for setting India as an export base and sourcing base for the world.