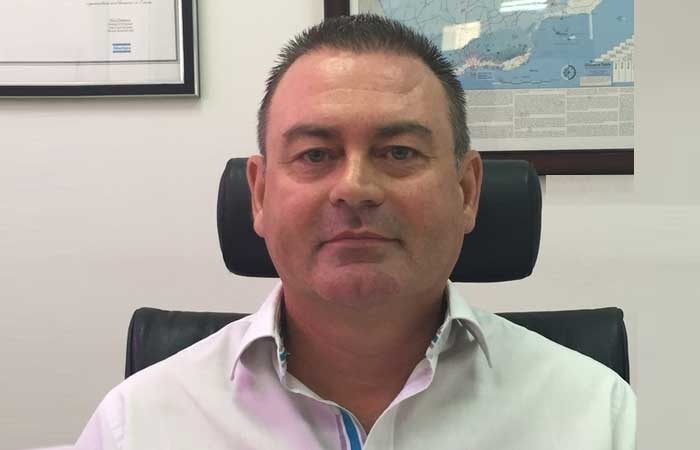 Atlas Copco products are designed and developed for Indian job site conditions with various innovations through reengineering.
Tony Van Herbruggen, General Manager, Power Technique Customer Center, Atlas Copco (India),
shares more on the new product range and solutions for the market.
What are the key applications of portable air compressors in construction, mining and drilling operations? What is the current demand trend?
Infrastructure, mining, quarrying and waterwell are the four major segments of portable compressor business. With the increased focus on road development and the revival in the mining and quarrying segment, there is continued demand for portable compressors. Besides this, the waterwell segment also contributes to the demand of large compressors for borewell applications. This is an exceptional year and the pandemic has impacted projects worldwide. With the unlock 2.0, we look forward to infrastructure and mining projects getting started, giving us continued opportunities to touch lives and improve infrastructure needs of people in India. We expect a slow and staggered growth in the short term but expect stability and better growth in the long term.
What are the key productivity parameters of portable air compressors?
We have a good mix of compressors in our diesel range starting from 140 cfm to 1,350 cfm and pressure range of 7 bar to 35 bar covering all pneumatic applications. We also have a good electric range starting from 45 kW up to 110 kW (300 cfm up to 700 cfm; 7 bar to 14 bar). The range combines lightweight compressors with small dimensions, making it easy to manoeuver on site.
Productivity and safety are guaranteed features in all Atlas Copco portable air compressors, and are non-negotiable. Atlas Copco products are designed and developed for Indian job site conditions, so we do various innovations through reengineering. We believe in consistently upgrading our product portfolio, keeping in mind the product gaps and future challenges. The element, which is the heart of the compressor, is engineered to the highest standards in the industry where all Atlas Copco portable air compressors are new generation screw elements which are energy efficient and engineered to power the best.
What are the new products and solutions offered? What are the features to meet extreme working environments?
The XRH 1100 PLUS is a tailor made product for specialised applications like water well drilling, foundation drilling, coal mining, CBM drilling and blast hole drilling. India's first innovative drilling compressor where the silencer is tucked away in a smart, sleek design to ensure ease of movement during transportation and movement from one drilling site to another. This ensures no damage to the silencer where the robust enclosure improves durability with no obstructions to the drill mast. A rain protector protects the silencer against rain and dust. With a focus on improving productivity, operating and running efficiency as well as residual value, Atlas Copco's new XRH 1100 PLUS improves customer's profit in drilling operations with 11 per cent better fuel efficiency. High resale value is assured due to highly efficient screw element and enhanced life of prime mover, and robust and reliable designed canopy.
The new XAWS 550 PACE is the first portable air compressor of its kind which has an electronically controlled pressure regulating valve called PACE, which stands for Pressure Adjusted through Cognitive Electronics. It offers low cost of ownership, higher resale value, low logistics cost and low service cost with better fuel efficiency by 8 per cent.
The XRS750 offers higher flow and pressure, which is suitable for 6 inch drilling up to 500 ft, resulting in the lowest litres consumed per metres drilled. It is developed to have a low foot print, increased reliability and the low fuel consumption.
The XRW 1250 PACE also offers the unique PACE technology with digital controller to regulate the pressure and flow combination. Higher pressure range from 17 bar to 24.5 bar makes the compressor the only waterwell compressor with this drilling efficiency at higher depths. This is an upgraded version of existing dual pressure XRW 1250 due to higher pressure and PACE technology.
What are the environment-friendly features in your product range?
The new environment legislations to control pollution in India have ensured that states are now actively supporting stable grids. This has resulted in the total installed utility power capacity in the country increasing by 51 per cent and is still growing. With Atlas Copco electric compressors, there is no fuel usage resulting in zero emissions while the hood type canopy of these compressors is designed to ensure silent operations on site, making them ideal for usage within city limits.
We undertake a lot of field trials and invest more than a year of R&D before launching any product. A customer always sees the value he will get from the product he is buying. So, other than launching new products, technology advancements are always in our pipeline.
Do you offer customised products and solutions?
In an industry that needs to operate their pneumatic tools on site, portable air compressors are the ideal partners in powering their performance. When choosing the right portable air compressor for application, Atlas Copco offers a range of customisable features such as: skid or portable version, adjustable tow bar, and after-coolers. One can get his compressor customised with a host of options and features that can flexibly cater to specific requirements.
In the current difficult market conditions, how are you taking on the challenges in terms of production, sales and aftermarket operations?
Our main focus continues to be safety of our employees and our customers. We have taken the necessary steps to ensure social distancing and hygiene norms in our production facilities in Chakan and Dapodi located in Pune. We maintain the highest norms for employee care while ensuring our equipment meets the quality and performance which our customers have come to know and expect. Besides this, our service team follows strict predefined SOP for on-site visits, which are necessary to ensure our portable air compressors are always up and running. We also manage service requests remotely wherever possible with our Power Connect mobile app designed to support customers online with the help of parts manuals and step-by-step assistance over the computer or phone.
In light of the plans of infrastructure creation and reforms in mining, what opportunities do you foresee for portable air compressors?
Expectations from the Indian market will continue to focus on infrastructure projects by offering products that meet our customer's needs and ensures them long-term benefits. India is a growing economy and looking at the overall infrastructure requirements coming up, we expect this healthy trend to continue in the coming years as well.
The construction and infrastructure segment today requires more innovation in all areas of core infrastructure such as roads, metro rail, expressway, airports and expansion on existing highways. At Atlas Copco, we have products to match this requirement. We offer a range of portable air compressors for quarrying applications. Further, portable air compressors are required in the irrigation segment to provide water for drinking needs where our advanced waterwell compressors are successfully deployed in large irrigation projects.
With time-bound projects and the need for 24/7 action to ensure on time completion, technology that ensures reliable light on site, brings in the required support for meeting the infrastructure project deadlines. 'We are listening' to the customer and are continuously innovating to match our compressor offerings to customer needs.