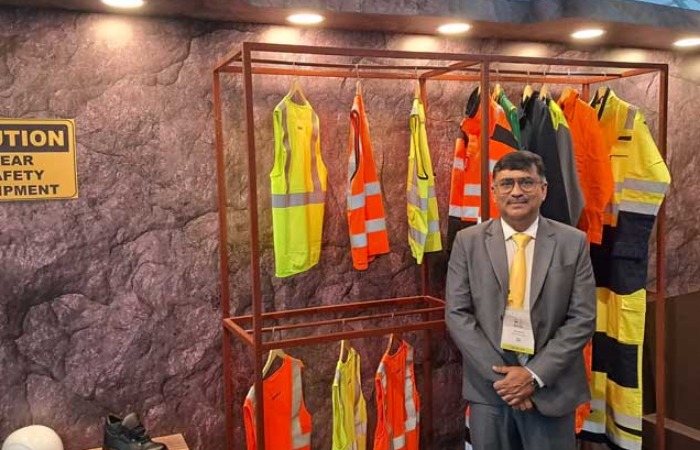 Which are the company's major products for the mining industry?
Mallcom has always been associated with many sectors – right from the automobile to manufacturing. Mining is such a sector that actually requires PPEs – right from the head to toe. We are seriously promoting our products in the mining sector. We have our entire range of products like safety helmets and safety goggles. We have a different range of gloves that are impact-resistant, and tough-resistant for the mining sector. In shoes, we have double-density soles and pure nitrile soles.
Given the variety of our PPEs, we feel confident concentrating on the mining industry, which is expanding in India. Big businesses and mining contractors alike are concentrating on both corporate clients and government organisations like NMDC. There is a tonne of room for all PPEs to be used in these businesses. We are sincerely concentrating on these businesses. The choice to take part in IMME, a sector-specific expo, was deliberate. A robust database for potential future commercial deals will be available.
According to Mallcom, one of its primary USPs is certification. We never offer things that are not certified. All of our items either have BIS certification or EN certification. That gives a lot of confidence to the client because all these test certificates are available with us, and the customer can cross-check the certificate number. Some are available online, particularly in the BIS online portal.
Our products may be slightly costlier. But ultimately the customer gets the benefit as they are using genuine products. About 95 per cent of our products are made in India in our 13 ISO 9001-certified units.
The IMME exhibition is a four-day event, and we are expecting not less than 300 new customers. It will open up a new door of opportunities for the PPEs that we manufacture. This would be a great opportunity for us to harness. The commercial part is a different aspect, but at least the brand Mallcom will be established in their mind.
Are you exporting your mining range?
As far as the garment is concerned, we are exporting to a lot of countries. Since I don't look at the exports, I won't be able to comment too much on that. There are mining companies who are buying customised products in their name, which are being taken care of by our private label.
How do you tackle the competition from Chinese companies? What makes your products unique from those of the competitors?
The Chinese companies provide the cost-benefit. As far as the durability or aftersales is concerned, we are miles ahead. Customer relation is very important. We want to have a long association with the customers and that is our prime objective. We are not much threatened by Chinese people. There are traders who bring in gloves, but they have a separate market for that.
What are the challenges faced by your company in the market?
Volume-wise, our product Tiger is so one of the largest-selling shoes in India. Along with the volumes comes the threat of fake products. So, that is one aspect that we encounter on and off, where the customer gets cheated by buying it from non-dealers. We are trying to tackle this legally and trying to catch hold of these fake manufacturers. This is one of the biggest challenges.
The other challenge we faced was the supply of raw materials which was affected during the COVID period. We have a set of suppliers and buy our raw materials like yarn or fabric only from them. We have our own tannery as a backup for the consistency of leather. Our supply chain management is very well established, which is taken care of by the production units.
In terms of performance, how was the year 2022 for the company?
We grew by almost more than 20 per cent in spite of the threats of COVID, and we hope to do better in 2023. The dealer network was affected because the shops were closed, and the companies were holding back their purchase decisions. Now things are coming to normal and even the dealers are motivated. We are trying to give them some good incentives in terms of commercial terms of lifting products. I think the future is very optimistic.