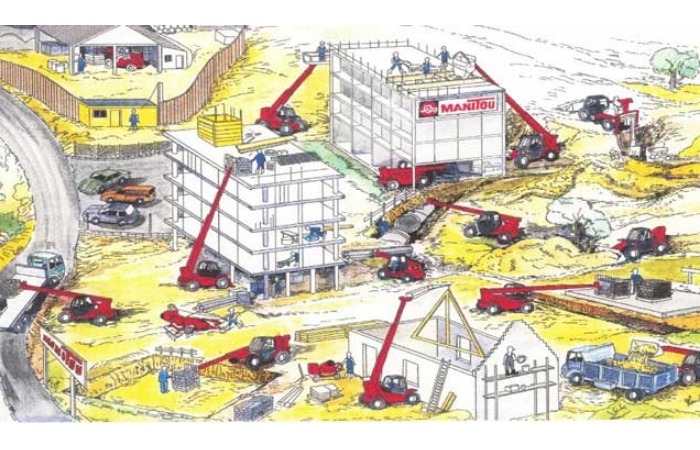 Indian telehandler market is expected to register slow growth as telehandlers are at a very nascent stage as awareness across sectors is still very limited. On the upside, demand for telehandlers has been increasing steadily, especially from the infrastructure construction and mining segments over the coming years. The only hurdles in the telehandlers' market growth are lack of awareness of the telehandler's multifarious uses and customers still preferring the conventional and cheaper pick-and-carry cranes.
However, going forward, the telehandler segment in India is set to gather momentum. Large corporates engaged in construction and infrastructure projects have started using them, though their percentage is still very small. And much like the aerial work platform segment, demand for telehandlers is likely to see a rise too.
Said Hafeez Khan, Managing Director, Manitou South Asia, "The awareness of the telescopic concept and its versatility is still at its nascent stage in India and this is owing to the awareness. Bulk of the competition for telehandlers currently is from forklifts and cranes which have steady growth. Telehandler is a conceptual product which can handle all kinds of material when used with the right attachment. For the same, the application needs to be studied in depth; the customer should understand the long term benefit of the equipment. Amongst the various materials handling equipment available in India, telehandlers currently are yet to gain their required space."
He adds, "The present size of telehandlers is around 450-500 units. There is a huge scope of telehandlers in India. These machines are being deployed across various job sites to handle multiple jobs using a wide range of attachments viz. floating fork carriage, tilting fork carriage, general purpose bucket, crane jib, frame mounted hook, extension jib, 4-in-1 bucket, construction bucket, platform basket, big bag handler, concrete skip, crane skip and many more."
"Telehandlers have developed from conventional landscaping and farming machinery to much more sophisticated construction equipment. Manitou is heavily investing in R&D to develop and incorporate changes in its product line. Areas such as alternative fuels and energy sources as well as automation of controls and operations are some of the key areas where we are working and meeting our customer expectations. The growing shift of industries towards automation calls for the need to reduce the time taken for maintenance of industrial equipment such as overhead cranes. The growth of telehandlers is likely to grow at a growth rate of 10 to 15 per cent and with more increase in awareness; the telehandlers will start replacing most of the conventional equipment."
Manitou Group has indigenised two of its Best Seller models of the Asia Pacific region in its manufacturing facility in Greater Noida, India. These models are with the same safety and operational specifications as other models of Manitou manufactured in Europe and are being extensively sold to both Domestic and International markets.
Manitou's endeavor with its indegenised models in India is primarily to offer its technology and the best value to the Indian customer whose application and project requirements are quite challenging. These models are equipped with strong safety systems, hydraulic cut offs, which allow effective and safe management of the loads and operation. Whatever the case may be, the inbuilt systems and safety allowances ensure that the machine with load is always within its safety parameters. The handling of the loads within restricted, cramped and narrow areas has been made very simple with the three different steering modes; crab mode, four wheel steer and two wheel steer.
"When it comes to versatility, the advantages from a telehandler are enormous. Manitou has evolved their telehandlers in a big way which can work in any environment whether it is plain areas or rough terrains. These machines are majorly being used across India in various sectors viz infrastructure, construction, industrial, oil and gas, mining, logistics, etc. and applications are shifting and placing of any kind of loads at height and are also used as elevated working platforms for personnel. The list is endless owing to the large scope of applications opened up from their extensive range of attachments," adds Khan.
Deepak Shetty, MD & CEO, JCB India, said, "JCB India currently offers four variants of the telehandler - the Made in India 530-70 and 530-110, and additionally, we have a 17m machine which is the 540-170 for high lift and reach applications, which is imported from the UK." This 'Made in India' JCB telehandlers offer exceptional versatility, productivity and reliability for all material handling applications. The all-new side engine telehandler 530-110 from JCB India comes with a sleek global design and Q Fit attachment which makes the product compatible with several attachments, thus improving versatility while JCB 530-70 compact Telehandler is engineered to move any material quickly and safely – enabling bottom line differentiation across various industries and applications including RMC, crusher, cotton, ceramic and more. Due to its innovative compact structure, it offers maximum operator safety, stability and support without compromising on ease of maneuverability.
The lifting capacity (3,000 kg-6,000 kg), long reach and impressive lift height (7 m to 20 m) in JCB telehandlers are complemented by a wide range of attachments (over 40) which makes these machines the first choice of machines in the construction and infrastructure domain. Additionally, an air-conditioned cabin features as a standard across all JCB telehandler models to enhance operator comfort. Adds Shetty, "These machines also come fitted with JCB's advanced Telematics Technology – Livelink. LiveLink benefits customers in better fleet and fuel management by enabling remote monitoring and management of their machines. JCB LiveLink incorporates GPS, telecommunications, machine electronics and IoT, enabling the equipment to remain in contact with owner, dealer and JCB. Fuel efficiency, performance, and smart machine management can be experienced in these machines through LiveLink."
Action Construction Equipment (ACE) too launched their NXT Nextgen Multi Activity Crane, which is a telehandler cum pick-n-carry crane of 15 tonne capacity. The telehandler fork attachment has a capacity of 3 Tons upto the maximum height of 12.3 m unlike the traditional telehandlers, wherein the maximum capacity is limited only to very small working radius and very limited heights.
Souma Ray, Director, Haulotte India, "All Haulotte HTL ranges comply with EC standards and TUV directives and regulations for safety. They are operator-friendly with a single joystick control for all types of operations. Their most distinguishable feature is the quick and easy recalibration of the Load Moment Indicator, which can be done by simply raising and lowering the boom for a few minutes. Haulotte telehandlers are being used across the world in different sectors and are also popular in the SAARC countries."
"HTL 5210 offers the best load rating for the 10 m segment with a lift capacity of 5.2 tons up to a height of 10 m, representing a maximum forward reach at 3.5 tons to 5.8 m, with the stabilizer. It is most suited for all types of applications in the heavy construction, mining, oil, ports, and recycling sectors. It enables optimal productivity, directly rivaling the 10 -12 ton range with an unbeatable price to performance ratio," he adds.
Haulotte has recently introduced the most compact and versatile telescopic handler HTL 3207, which provides maximum efficiency on tight job sites with excellent maneuverability and significant work autonomy with optimum safety and comfort. The telehandlers is equipped with hydrostatic transmission; and delivers optimal torque, power, speed, and driving comfort. The inching pedal enables smooth driving, and due to its proportional movements, maneuvering is intuitive, secure and precise.
Technology trends
Adds Khan, "Over the past handful of years, trends within the telehandler industry have typically been surrounded with lifting capacity and lifting height. But now with the modern age there is a turnaround in the technology trend in all material handling equipment. Today the top priority of any telehandler manufacturer is improving the operator's confidence, their safety and in turn increases productivity. Manitou always thinks in two ways where the machine can help the operators to do more work as well as keep them safe and comfortable to work longer with less fatigue."
Some other features that add value to the product are load stability mechanism, backup camera with a screen in the cabin, proximity alarms, remote control mechanism, telematics. Load stability mechanism helps to minimise human errors and hence avoid accidents. The backup camera allows the operator to have a multi view facility, increasing his confidence to operate the machine at his job site. Remote control facility allows the operator to operate the machine with a remote, controlling outside the cabin, while sitting in a man basket or standing on the ground.
"The use of alternative fuels and electrification of vehicles is still in very nascent stages especially for the construction equipment segment in India. On a global level, there is an observation that the next big thing definitely is electric for mobility and productivity of construction equipment and that is precisely the reason, Manitou has already started the launch of the fully electric telehandlers and access equipment in Europe and in other parts of the world. The same shift is expected to be seen in the country for electric as an alternate fuel. However, this will have a huge impact and need for infrastructure. Apart from needed change in mindset, there will need to be provisions for charging points, their cost implications, government policies, frameworks, etc. These will happen in course of time and electric will be a reliable alternate fuel," opined Khan.
India telehandler market is projected to witness substantial growth backed by the rising infrastructural development in the country by the increased focus and efforts of the Indian government for the betterment of the country landscape. The intense construction activity will demand heavy deployment of construction machineries and the telehandler will be one of the most sought after equipment: optimised capex and opex. One machine delivering far higher output of multiple conventional machines.