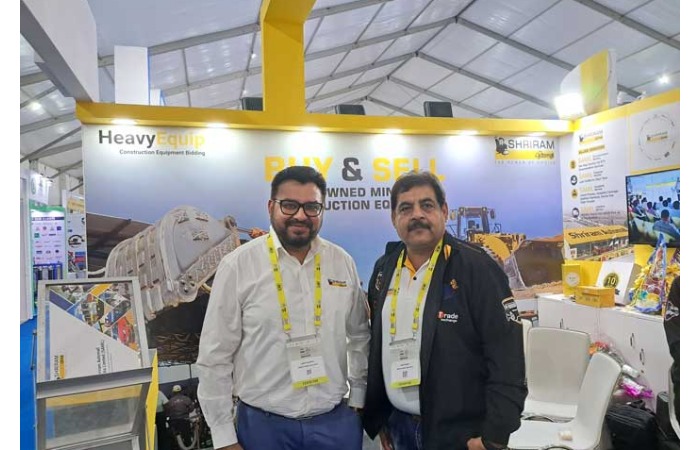 Samil is one of the largest exchange platforms for trading pre-owned construction equipment in India. How do you look at the market for construction equipment in India?
Sameer Malhotra (SM):
Construction equipment sales have been erratic. The demand has suddenly increased recently. We believe that the used equipment market is slowly getting organised than it was previously, but there is still much work to be done. The journey from disorganised to organised will take some time.
In our opinion, the market will gradually strengthen to match the transactions that are taking place in the sales of new machinery.
The numbers are currently happening, but mostly in the unorganised segment. We may, however, see a change in the market.
Apart from construction equipment, what are the other segments the company deals with?
SM: We work in the fields of mining, building, contracting, piling, and transportation. We provide large excavators, dump trucks, and wheel loaders for mining.
What are the major challenges faced by your company? How did you overcome those challenges?
Sanjay Khanna (SK): Our biggest obstacle is spreading awareness of the idea as a whole. The majority of users keep the equipment until it is completely useless, at which point they sell it for scrap. We're attempting to educate them on the benefits of selling it at the correct moment so that timely replacements of the machines get them the better realisation of old machines and enhanced productivity. Some users even feel emotionally tied to their current assets and don't want to part with them. We are therefore educating them.
The delay for new equipment is the second significant issue we encounter. The contractors are up against this difficulty. We are assisting them in making wise plans so that they have a backup before new equipment is installed.
It is extremely difficult to move large pieces of equipment from the sites to our yards. It becomes challenging to take the buyer to the sites, coordinate their trip, and schedule an inspection. It becomes simpler for us to move mobile assets wherever viable.
Another big issue is finding financing for used equipment. There aren't many possibilities for financing, and the majority of businesses have agreements with the buyer directly.
The company recently tied up with IIT Delhi's Yardi School of Artificial Intelligence to improve its in-house developed pre-owned vehicle valuation platform – ThePriceX. Tell us more about the collaboration.
SM: Yes. ThePriceX is a tool for mining and construction users. They can go through the website and check the tentative price of the equipment as of date.
Through this exclusive agreement, the IIT-Delhi team will provide expertise to improve the accuracy of ThePriceX, which assists in predicting the value of pre-owned vehicles from any source and geography, in real-time, through statistical modelling, machine learning and other complex artificial intelligence algorithms, the company said in a statement.
ThePriceX is an advanced price prediction engine that is already being used by leading banks, insurance companies, NBFCs as well as OEMs. Users get data-driven results on the basis of lakhs of successfully transacted vehicles over the past 11 years.
What about the after-sales service?
SK: In general, we let customers inspect the machines before purchasing. They are welcome to check out the machine at our yards or at the sites before making a purchase decision. It is being sold "as is, where is." Their own personnel must handle the after-sales component.
Tell us about the concept of Automalls.
SM: Automalls are actual locations where you may go to purchase equipment after bidding on it. We have yards, which are physically present on the majority of Indian roadways, in approximately 120 cities. These yards range in size from 2 to 20 acres and contain valuables. There is a crew from our company there to take care of the client.
Every piece of equipment is sold at auction. You can attend the auction, look at the equipment, place a bid on it, and if your bid is the highest, you can purchase them.
Percentage-wise, how much is the construction equipment segment for Samil?
SM: Construction and mining put together should be around 10 per cent of our total sales.
In terms of performance, how was the year 2022 so far? What are your expectations from 2023?
SM: Year after year, we get better. From the previous year, our revenue has practically doubled. In every one of our verticals, growth is at 100 per cent.
Future plans call on us to remain strong through March 2023. In the upcoming five months, we will be aggressive. We are expanding our staff, into new regions, markets, and clientele. We want to be India's biggest marketplace for machinery and cars.