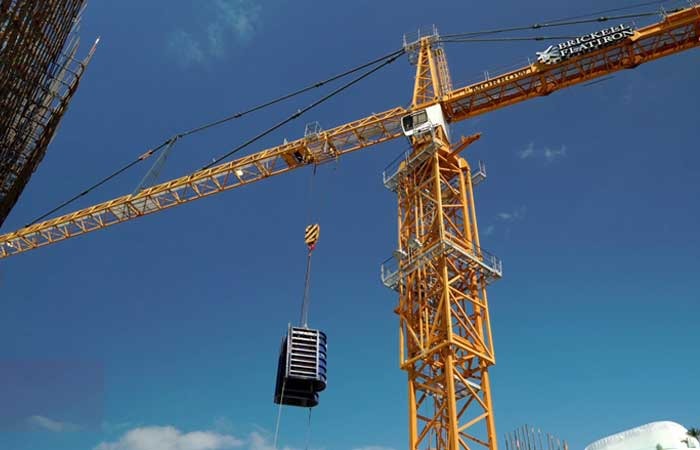 The tower crane market has registered substantial growth in the last few years. Construction of high-rise buildings globally to cater to the increasing urban population is a major factor driving tower crane market growth. However, the onset of the Covid-19 pandemic has severely impacted the segment with the real estate construction among other construction activities coming to a standstill.
Tower cranes are the modern balanced cranes that consist of various basic parts. The high lifting capacity and height of tower cranes enable them to be used in construction of tall structures. A modern tower crane consists of three main sections, which include base, the tower mast and the slewing unit. The most important features of the tower cranes are safety, reliability and user-friendliness. Tower crane rentals are available in different capacities depending on the requirement of the end-users.
The Indian tower crane market stood at 650 units in 2018 and the market is anticipated to grow at a CAGR of around 16 per cent during the forecast period. Tower cranes are equipped with advanced technology, provide ease of lifting heavy construction materials to large heights and require minimum time and effort. All these factors are fueling the demand for tower cranes across India.
Manitowoc, ACE, Zoomlion, Liebherr, among others are some of the leading players operating in the Indian tower crane market. The companies operating in the market are using organic strategies such as launch of new cranes with advanced technologies, mergers and collaborations in order to register positive growth in the market. Additionally, surging popularity of tower crane equipped with heavy weightlifting capacity along with advancement in technology is pushing the companies to focus on improving the design and functionality of tower cranes.
A major portion of the demand for tower cranes is being generated by the projects in real estate sector in India. Therefore, with the slowdown in progress in real estate sector projects this year, the tower crane market is also facing a slowdown. However, apart from the real estate projects, several other sectors such as power plant, industrial, railway projects, construction of bridges and dam projects and marine construction projects are continuously generating demand for tower cranes in India.
Manish Handa, Vice President & Business Head – Earth Moving & Road Construction Equipment Division, Action Construction Equipment, said, "We had recently launched the NX Series next-gen multi activity cranes. These new NX Series cranes perform multiple tasks apart from crane operations thereby adding versatility and providing multi-purpose utilisation for the users. These types of multi activity cranes with articulated steering are the first in the world and ACE has already applied for the necessary patents for the entire series."
He added, "According to our estimates, the market size for construction equipment for FY 2020 was 84,000 units. The Indian market for construction equipment has seen exponential growth. This rise is majorly due to government's push for infrastructural development especially in roads, railways, rural development and industrial projects to name a few."
Designed with urban and infrastructure projects in mind, the new model (8 t capacity MCT 185) from Manitowoc shares the same advantages of easier transport and assembly, as well as high efficiency, productivity and reliability, that are the hallmarks of other Zhangjiagang-built MCT models, stretching back to the launch of the first units back in 2012.
"Topless cranes are becoming the go-to solution for the speed and flexibility they bring to jobsites," said Kwong-Joon Leong, regional product manager for Asia – tower cranes, Manitowoc. "The integration of the MCT 185 into our topless range opens up even more possibilities for contractors, and of course it is backed by the industry-leading technical support that is synonymous with Potain."
The crane boasts an impressive 65 m jib, yet the entire upper works of the MCT 185 can travel in just five containers thanks to its intelligent, compact design. Each crane section benefits from minimised component dimensions and weight to simplify assembly, as demonstrated by the shorter, simpler ballast shape on the counter-jib. This section is available in two lengths – 13.5 m for use with a 30-45 m jib, or 16 m for the 50-65 m configuration. This choice in configuration allows projects to plan crane positioning more efficiently, a useful feature as jobsites become more congested.
G Boopathi, Director of Chennai-based Uniqcore Constructions India, said, "From the market, I could say all leading tower crane manufacturers are producing tower cranes, self-erecting cranes, mobile cranes, lattice boom crawler cranes and its accessories."
To support crane operators and service technicians in their work while boosting handling capacity, reliability and safety, Liebherr's tower crane Litronic crane control system comes with a series of modern assistance systems. The Load-Plus function enables you to increase the lifting capacity of your crane for individual hoists by up to 20 per cent – all at the touch of a button.
The growth of tower crane market in India is expected to be driven by several factors in near future. Government initiative towards the development of 100 smart cities, development of urban infrastructure including metro rail projects, ports, industrial corridors and freight corridors are some of the leading growth drivers for tower crane market in India. Increase in public private partnerships within the country is encouraging significant private sector investments in infrastructural development, which in turn boosting the demand for tower cranes in India.
"We have 200 cranes working only in South India alone"
- G Boopathi, Director, Uniqcore Constructions India, Chennai
What is the present size and growth rate of the tower cranes market in India? How has the market evolved in the last couple of years?
Almost 200 cranes working only in the South India overall. We can say more than 500 cranes in the last couple of years in South India. There is a good growth rate we have seen amidst this pandemic.
What are the various product offerings from your company in this segment?
Our company is into civil construction contracts. From the market, I could say all leading tower crane manufacturers are producing tower cranes, self-erecting cranes, mobile cranes, lattice boom crawler cranes and its accessories.
In light of the plans of infrastructure creation and reforms in mining, what opportunities do you foresee for tower cranes?
In regards to the infrastructure creation, we have great opportunities for the tower cranes, which are able to outperform the loading and lifting capacity of any other crane. Their height capacity cannot be paired with any other type of crane. They have immense stability and can bear the most difficult lifting operations. Of course, tower crane will be more useful for mining industry as well.
What has been the impact of Covid-19 on your business?
Of course, Covid-19 has severely affected our business in terms of execution of works at project sites, due to less manpower and shortage of oxygen for work. However despite facing various hurdles (logistics, manpower, engineering and time constraint), we have worked diligently and strived hard during this lockdown period. We have managed well in the current situation.
What are the major changes taking place in terms of technology?
Tower crane manufacturers have introduced many flattop range up to 65 m or 70 m, also Luffing jib cranes up to 10 t capacity.
How do you look at the future market for tower cranes in India?
At the moment, due to current pandemic, all the upcoming projects are on hold temporarily. However, considering increased construction activities in India are leading to increase huge demand for tower cranes for high rise buildings and other projects
As per recent studies, construction market in India is expected to emerge as the third-largest in the world by 2025.